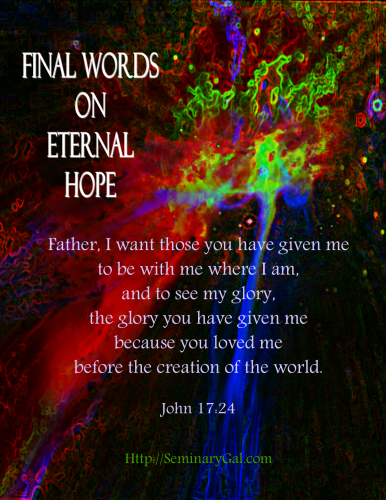 John 17:24 "Father, I want those you have given me to be with me where I am, and to see my glory, the glory you have given me because you loved me before the creation of the world.
Today is Good Friday on the Church calendar.  It's the day Jesus died on the Cross.  It was a dark day indeed.
How did Jesus endure the betrayal, the abandonment, the beatings, the scoffing, the false accusations, the ridicule, and the agony of being nailed to a Cross to die a slow horrific death?
He set His mind on hope. 
And not some sort of superficial hope. 
A fully grounded eternal hope of eternal love and eternal glory.
I love how Jesus concludes His High Priestly Prayer.  His focus is on the sure hope of fellowship of God and man, of glory, and of love—possible only because of what He was about to suffer.  Jesus was looking forward to going home even if it would be through the pain and the shame of the Cross.  His eternal hope was set before Him in heaven with His Father.
Today, against the dark backdrop of the Cross, enter into the mind and heart of Christ to see this hope.  Ponder how greatly Jesus desired to be at home again with His Father.  It would be a sweet reunion like no other.  The work of God would be done, once for all time.  All that's left is the fellowship, eternal love, and the glory to come.
* * *
Give it Up for Lent: Placing your hope on anything earthly
Put it On for Lent: The sure hope grounded in eternity because of Jesus' willing sacrifice
For further thought:
Jesus wants us to be with Him in heaven and for us to see His glory.  Remember back to a time when you had something special to share with someone, maybe the return from military service, the birth of a baby, a present, a car, or a grade on a test.  What kind of feelings accompanied waiting to share something wonderful with those you love?
When Jesus came to the earth, He didn't bring is full glory with Him.  Scripture says that He emptied Himself.  Read Philippians 2: 5 Have this attitude in yourselves which was also in Christ Jesus, 6 who, although He existed in the form of God, did not regard equality with God a thing to be grasped, 7 but emptied Himself, taking the form of a bond-servant, and being made in the likeness of men. 8 And being found in appearance as a man, He humbled Himself by becoming obedient to the point of death, even death on a cross. 9 Therefore also God highly exalted Him, and bestowed on Him the name which is above every name, 10 that at the name of Jesus every knee should bow, of those who are in heaven, and on earth, and under the earth, 11 and that every tongue should confess that Jesus Christ is Lord, to the glory of God the Father.
In what ways would Jesus be looking forward to the reunion with the Father and the restoration of His glory?  Allow yourself to imagine what that's like.