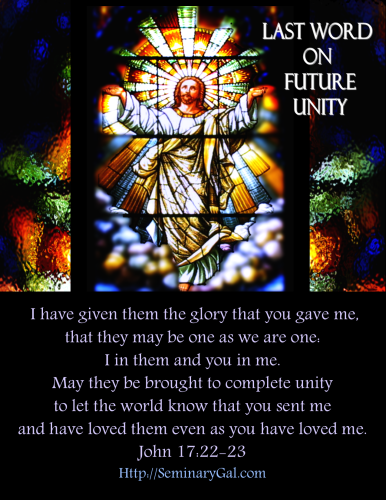 John 17:20 "My prayer is not for them alone. I pray also for those who will believe in me through their message, 21 that all of them may be one, Father, just as you are in me and I am in you. May they also be in us so that the world may believe that you have sent me. 22 I have given them the glory that you gave me, that they may be one as we are one: 23 I in them and you in me. May they be brought to complete unity to let the world know that you sent me and have loved them even as you have loved me."
Now Jesus' High Priestly Prayer shifts beyond the original disciples for whom Jesus has already been praying.  They were His immediate concern.  Now Jesus extends the prayer to us.
Isn't it interesting that as Jesus Christ prepares to conclude His final words to us, He looks to the distant future and declares that His Gospel goes on and on to future generations?  We were on His mind even back then.
While we, as Jesus' modern disciples, have never once seen Him in person, yet we can know Him because His message continues. His Word lives on.  His presence endures as His Holy Spirit comes upon disciples and makes His home with us.  We carry on the legacy, the traditions, and the faith of our fathers and the beautiful Spirit of Christ binds us together and empowers our faith.
We ought to have unity among brothers today on earth even as the unity we have in the spiritual realm with Jesus Christ and all the saints who have gone before us.
With Christ in the Upper Room, we can see that Jesus was thinking not only about the handful of disciples who would hide in fear at His arrest and Crucifixion, but who they'd be after they were gathered back.  They would shepherd a movement that has been in process for nearly 2000 years after His birth.  This tiny band of followers—these ordinary men–would have a powerful and lasting legacy.
* * *
Give It Up for Lent: Thinking that this is just some ancient religion with superstitious beliefs.
Put it On for Lent: The heritage of the saints and the unity of mind and purpose.
For further thought:
As Christians today, we are part of this historic movement.  A historic faith of our fathers has been entrusted to us by no one less than Christ Himself.  How should this knowledge impact our role in guarding it?  If you've ever played the game "telephone" how does the message change?  Is it always intentional?
Jesus prays that we would be brought to complete unity.  That would be an awesome sight to behold: every Christian man, woman, and child standing shoulder to shoulder…affirming the Lordship of Jesus Christ…and praising God with one voice.  Allow yourself to dream the dream that will be reality someday.
* * *
Holy Week is the final week for 2015 Lenten devotionals which you can receive in your email (Monday through Saturday during Lent) by entering your email address on the SeminaryGal.com home page in the space provided in the sidebar.  There's still time to meet With Christ in the Upper Room.  After Lent, sermons and additional devotionals will be posted and arrive in your email.  I hope you will continue to be blessed beyond Lent as other devotional series unfold.