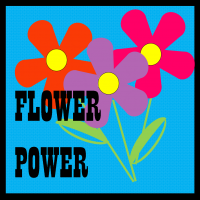 At the risk of revealing my age, I remember "Flower Power" and brightly colored flower decals all over my school notebooks.  The term "Flower Power" was coined by Allen Ginsberg in 1965 as a means of transforming the image of war protests into something that appeared to be peaceful and affirming.  Flower Children appeared on college campuses and in magazine photos.  Passive resistance and an ideology of non-violence became the counter-culture's preferred narrative regarding protests in opposition to the Vietnam War.
This is the power of masses of people.  Some protests were peaceful, but there were other instances, such as in the Kent State shooting (1970), in which the protests turned horribly violent.  Burning draft cards and ROTC buildings.  People setting themselves on fire.  Flowers apparently didn't have enough power to keep the protesters under control.
Gospel Power is different.  Gospel Power is…of God and…from God…and is sufficient to save every believer…all the way to eternal life!
Romans 1:16 I am not ashamed of the gospel, because it is the power of God for the salvation of everyone who believes: first for the Jew, then for the Gentile. 17 For in the gospel a righteousness from God is revealed, a righteousness that is by faith from first to last, just as it is written: "The righteous will live by faith."
This key verse from Romans sets the stage for the entire letter.  It's all about Gospel Power.  Power for salvation and revelation of the righteousness of God.  And it is available by faith to all: Jew and Gentile (which is just a fancy word for the non-Jewish rest of us).
Unlike Flower Power which looked nice but was ineffective, Gospel Power never runs out.  It is as eternal as God Himself.  The Gospel is and has always been God's appointed means of bringing sinners back home alive.  It marks the very end of our war against sin because Jesus fought the war and won.  Gospel Power brings us peace with God.  Because God knows our beginning from our end, Gospel Power is good from our first faith to our last breath.
With Gospel Power, we sinners are declared innocent even while the Holy Spirit sets at work to transform us into changed people who better reflect the righteousness that ought to permeate our spiritual existence.
* * *
Give it up for Lent: Powerless Protests Against Receiving God's Peace
* * *
For further study, re-read Romans 1:16-17 (above).
Questions to think about:
Name some things about which you are ashamed.  If any of those are sins, how can Gospel Power help you to overcome the shame?

How often do you consider your behavior better than someone else's?  Do you ever see yourself as more "worthy" of heaven than other people?

Do you know who the Holy Spirit is?  If not, consider reading John 15:26-16:15