She stood in the Health and Beauty aisle and was fixated upon the soap display when I encountered her. She moved her cart and looked at me sheepishly. "Sorry," she said, "too many choices, I guess." I said, "I hear you. Kind of makes you miss the good old days when there were fewer choices, huh?" She nodded in nostalgic agreement and returned to viewing soaps as I turned my gaze toward the myriad of hair sprays thinking about how too many choices is genuinely a "first world problem." And then because of the way my mind works, it instantly caused me to think about how God doesn't give us "first world problems." We don't have too many choices of gods. We have a failure to distinguish between the one God who is God…and all the things that aren't god at all. There is No Other God—a distinction to remember as we consider our Three Words for Day-to-Day Christian Living.
So many analogies, so little time. Isn't it amazing what drives Americans to action? A total solar eclipse today has prompted car trips and planning ahead with purchases of authorized, certified, total eclipse glasses for viewing it as many people go out of their way for what they believe is a once-in-a-lifetime occurrence. A partial eclipse isn't good enough. There's a point of distinction, a very narrow path the total solar eclipse will take. So pack your glasses, fill up your car with gas, endure traffic jams for a moment you hope won't be occluded by clouds to be present at the very narrowest of paths determined by scientists as the total, total eclipse.
And yet, people rarely plan ahead, travel great distance, endure traffic and headaches, or monitor weather reports to be in the presence of the One God about Whom we say, there is No Other God. For a vast swath of American culture, they won't even get out of bed or away from Netflix to attend a worship service to honor God, even though there is No Other God.
Don't you find that amazing? In our first world of soaps and hair sprays and eclipses, if it were all to fall away to 1 soap, 1 hair spray or 1 location to actually view the total eclipse, the choice would be simple.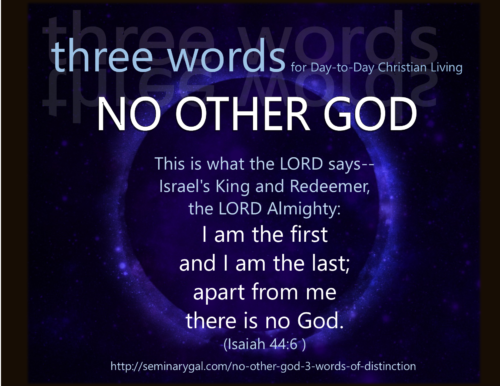 Why is it so difficult to worship when there's only one? It's like, Hello? Pssst. It's not that hard. There is No Other God.
Maybe we're so busy creating choices for ourselves and finding other things to worship, adore, and binge-watch that we find ourselves unable to see the distinction that would be crystal clear in any other aspect of life.
"This is what the LORD says– Israel's King and Redeemer, the LORD Almighty: I am the first and I am the last; apart from me there is no God." (Isaiah 44:6)
The choices are gone. There's only one. There is No Other God.
===
This "three word" series is archived beginning July 22, 2017.