Whose strength do you have? Your own? God's? Aw, come'on, Barb, how is it even possible to have God's strength? As we continue to look at 3 Words for Day-to-Day Christian Living, there are 3 words upon which we can rely: God Gives Strength. In fact, He delights to give strength to the least, the wimpiest, and the weakest among us. And why? Because when we are strong beyond our own visible reserves, it's obvious on Whom we rely. Our reliance is upon God and He is visible in His strength on our behalf.
The Bible is replete with examples of people whose visible strength and courage could come from no one but God. Consider as one case in point, poor hapless Gideon. He was just hanging out in a winepress threshing wheat because he didn't want his enemies to take it. God didn't want Israel to run and hide from the Midianites, He wanted them to have faith and to take them out. And He wanted Gideon to do it with Him (Judges 6-7)
Judges 6:14 The LORD turned to him and said, "Go in the strength you have and save Israel out of Midian's hand. Am I not sending you?"
Excuses. Excuses. But Lord….my clan is weak. I am the least of the weakest. He was pretty scared and his every response to the angel of the Lord begins with "But" until the Lord says, "I will be with you" (Judges 6:16).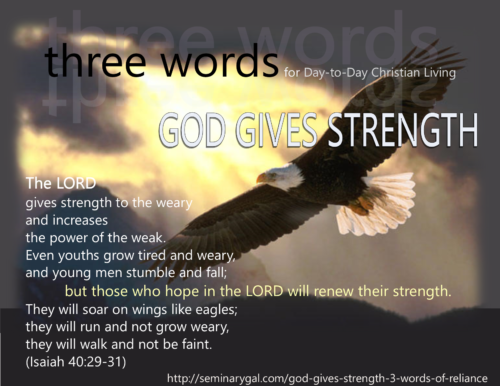 When God assigns a huge task that requires more than human strength and wisdom, He takes a man or a woman whose heart is all-in for God and displays that God gives strength.
Because in the end, it's not about conquering Midianites or whatever enemy you might think you have. In the end, it's about Him, conquering hearts, reclaiming them from the valley of the shadow of our enemy Death, and from pointless self-reliance. Sometimes, the battle is too big for us alone. May we be able to say along with King David,
My flesh and my heart may fail, but God is the strength of my heart and my portion forever." (Psalm 73:26)
Are you the least of the weakest, weary from fighting a battle that's bigger than yourself? God gives strength! Or as the prophet Isaiah put it:
"The LORD gives strength to the weary and increases the power of the weak. Even youths grow tired and weary, and young men stumble and fall; but those who hope in the LORD will renew their strength. They will soar on wings like eagles; they will run and not grow weary, they will walk and not be faint. (Isaiah 40:29-31)
===
This "three word" series is archived beginning July 22, 2017.