Captain Hook: Fly! Fly! Fly! You coward!

Peter Pan: Coward! Me?

Captain Hook: Ha-ha-ha! You wouldn't dare fight old Hook man-to-man. You'd fly away like a cowardly sparrow!

Peter Pan: Nobody calls Pan a coward and lives! I'll fight you man-to-man, with one hand behind my back.

Captain Hook: You mean you won't fly?
Wendy: No, don't, Peter! It's a trick!

Peter Pan: I give my word, Hook.

Captain Hook: Good, then let's have at it!
Having the power to do something yet experiencing some level of constraint is a curiosity of the Incarnation. What happened here?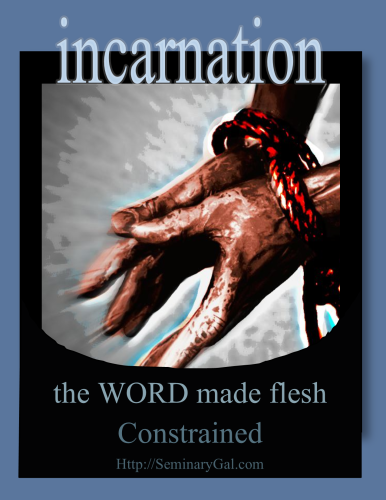 It's not exactly like Peter Pan fighting man-to-man and refusing to do what was within his power (i.e. flying) to save his own life. It is even more than Pan's self-decision… for self-restraint. Yet, Jesus had divine power as the Eternal Word. Powerful enough to create the entire universe with it. In the Incarnation, though, His human body had certain limitations without leaving Him powerless.
These limitations are referred to as making Himself "nothing" in Philippians 2: 5 Your attitude should be the same as that of Christ Jesus: 6 Who, being in very nature God, did not consider equality with God something to be grasped, 7 but made himself nothing, taking the very nature of a servant, being made in human likeness. 8 And being found in appearance as a man, he humbled himself and became obedient to death– even death on a cross! 9 Therefore God exalted him to the highest place and gave him the name that is above every name, 10 that at the name of Jesus every knee should bow, in heaven and on earth and under the earth, 11 and every tongue confess that Jesus Christ is Lord, to the glory of God the Father.
This making Himself nothing, sometimes called emptying or kenosis, is a confusing concept. It's easier to identify what He did not empty Himself of. He did not give up His divinity, His divine attributes, His divine power, His intrinsic equality with the Father or His nature as the Eternal Word of the Godhead.
I'd like to propose that what He emptied Himself of was His independent use of His divine attributes. He depended on the Father, showing the perfect fruit of the Spirit in perfect love and perfect self-control.

How do I arrive at that?
Matthew 26: 39 Going a little farther, he fell with his face to the ground and prayed, "My Father, if it is possible, may this cup be taken from me. Yet not as I will, but as you will." 40 Then he returned to his disciples and found them sleeping. "Could you men not keep watch with me for one hour?" he asked Peter. 41 "Watch and pray so that you will not fall into temptation. The spirit is willing, but the body is weak." 42 He went away a second time and prayed, "My Father, if it is not possible for this cup to be taken away unless I drink it, may your will be done."
Matthew 26:53 Do you think I cannot call on my Father, and he will at once put at my disposal more than twelve legions of angels?
The spirit is willing but the body is weak. Jesus experienced all the weakness of humanity, all the frailty, all the sorrows.  Jesus knew He could call upon His Father to relieve Him of these human limitations and yet, He submitted Himself as a servant would to the will of the Father. He submitted to the full attributes of humanity, including mortality.
Thought for the day: Jesus modeled what a life looks like when a person is fully submitted to God.
Questions for pondering:
In what ways is Jesus the perfect man?
Is the perfect man in perfect control, perfect submission, or both?
In what ways did Jesus' limitations not act as limitations at all?
Could we, if we were fully submitted to God, rely upon Him and receive full power from the Father as Jesus did?
Why does submission get such a bad rap?
======
Incarnation (2015 Advent Devotional Series) began November 29th.  By way of reminder, if you haven't signed up yet, you can receive these devotional studies in your email throughout Advent 2015 by entering your email address on the SeminaryGal.com home page in the space provided in the sidebar.  Or "Like" the SeminaryGal Facebook page to access them there.  If you like these devotionals, I'd really appreciate your letting others know so I can continue to spread the Good News far and wide.  Blessings to you, in Christ always, Barbara <><