Those brothers: traitors and betrayers of the family trust, plotting and planning to defy authority and rip up that stupid coat of Joseph's that they hated.
Genesis 37:23 So when Joseph came to his brothers, they stripped him of his robe—the ornate robe he was wearing—
Yeah, that robe of his really ticked them off… (and it's emphasized to make sure we didn't miss it).
Genesis 37:24 and the brothers took Joseph and threw him into the cistern. The cistern was empty; there was no water in it.
That's how Reuben planned to rescue him. He knew Joseph wouldn't drown because it wasn't the season for rains and therefore, there was no water. But Reuben's plan was not well thought through. He hadn't counted on two things. First, if Joseph were to be rescued, he'd squeal, and the resulting report would be damning for the brothers. All of them. Beating up Daddy's favorite but throwing him into a cistern might have saved Joseph, but all the brothers would be in big trouble for the treachery. The other brothers knew it, so there would be no getting Joseph back to Daddy without Reuben's plan being foiled. It's kind of hard to sneak a young man in a colorful coat back to his father without anyone seeing…for the rest of their lives.
But second, Reuben hadn't counted on the coincidental timing (read as divine Providence) of Traders … those Ishmaelites and Midianites who were passing through. Second cousins by heritage, but not really close enough to be considered family and therefore, they were just traders and not traitors like Joseph's brothers. Judah did a quick calculation about the consequences now that Joseph was in the pit. If we let him out and he lives to tell about it, we're in big trouble. If he dies, we're in big trouble unless we lie about it and no one finds out. Either way we're in big trouble. Unless there's another way. They were all chewing on well more than food.
Genesis 37:25 As they sat down to eat their meal, they looked up and saw a caravan of Ishmaelites coming from Gilead. Their camels were loaded with spices, balm and myrrh, and they were on their way to take them down to Egypt. 26 Judah said to his brothers, "What will we gain if we kill our brother and cover up his blood? 27 Come, let's sell him to the Ishmaelites and not lay our hands on him; after all, he is our brother, our own flesh and blood." His brothers agreed. 28 So when the Midianite merchants came by, his brothers pulled Joseph up out of the cistern and sold him for twenty shekels of silver to the Ishmaelites, who took him to Egypt.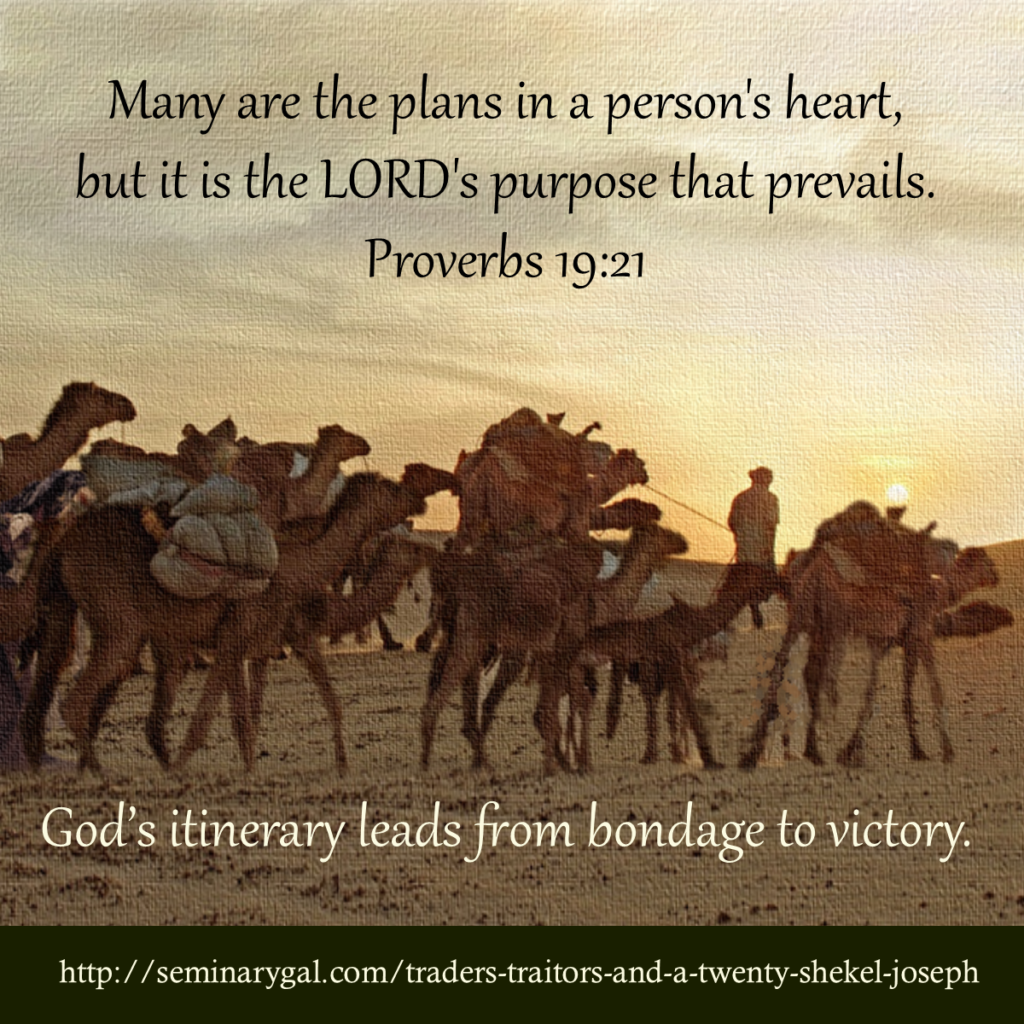 Think about it:
"Come, let's sell him … after all, he is our brother, our own flesh and blood." How is this a major disconnect of thoughts? How might selling him be no better than killing him?
In what way does it compound their guilt?
The brothers were twenty shekels richer and Joseph was out of sight, out of mind…sort of. Who had they not taken into consideration regarding traders bringing Joseph to Egypt? For that reason, would their consciences ever rest easy about what they'd done?
How are the plans of people always subject to the greater plans of God? Proverbs 19:21 "Many are the plans in a person's heart, but it is the LORD's purpose that prevails."
God's itinerary always leads from bondage to victory. How was this borne out in Joseph's being sent to Egypt?