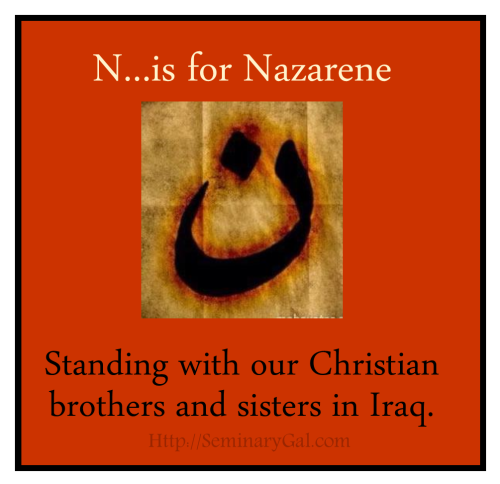 Friends, I have been so grieved at what is going on in the world.  Christians are being persecuted around the globe in ways large and small.  I'm feeling the sadness of so few tangible ways of directly helping, but I believe in the power of prayer.  Here is a Scripture I'm praying and a prayer I'm praying, too.
Father God in heaven, we lift our eyes to You.  We feel helpless to address the many persecutions of your people around this world.  We are weak but You are powerful!  You are the God who cares deeply about the sufferings of those in your Church. You are the God who considers us your children by faith in Jesus Christ.  You are our Father and we come to You not on our own merit, but because of what your Son Jesus Christ has done for us.
We do not know what to do, but our eyes are on You.  We pray, LORD, for deliverance for your people in every area of this world, and specifically today our hearts are heavy for the Nazarenes in Iraq.  Father, we ask for You to spare their lives.  We ask that they would cling to your Word and would know they are rich in You.  Let them leave in peace to go to a place You will show them.  While they may be stripped of the things of this world, we ask LORD that You would mobilize your people to care for them on the other side of this danger.  We intercede for them and ask that You would repay the years the locusts are taking away and that they would be blessed for their perseverance in the face of times of great trial.  We pray that the Church would step forward in mercy and faith and to provide for their needs.
We are mindful that we do not pray enough.  We confess we pay too much attention to things that do not matter.  We ask for You to forgive us for not loving others as we should.  We confess the ways we have hated our enemies instead of loving them as You have taught us.
We ask for your protection for those suffering around the world, that they would not be ashamed of the Gospel, but would stand firm and that we would stand resolutely in solidarity with them and with You.  May your Church stand strong in these dark days!  May we join hands together and witness to You, the God of love and justice, the King of Kings and the LORD of Lords whom we proudly serve.
Be glorified in this moment.  Be glorified in the actions of your saints.  Be glorified in the way the Gospel goes forth.  Be glorified in the witness in this world that Christianity isn't just "a religion, one among many."  Be glorified as we proclaim that Jesus is THE Way, THE Truth, and THE Life!  Be glorified as we live it.  Be glorified as your people step out in faith and as You demonstrate the eternal power behind the Church.  Summon, LORD, your Holy Spirit to act, to protect and shield, to empower and encourage, to remind and to keep their faith strong.  Indeed for all of us who claim the Name of Christ, may we know your goodness, your love, and your powerful actions to save those who call upon your Name.  We praise You, LORD, for what You have already done.  We praise You, LORD, for Jesus and His sacrifice so we can be in your presence to offer prayers.  We praise You, LORD, for your mercy.  We praise You for being the God we are not ashamed to worship.  May we all proudly wear an N, circumscribed by the Holy Spirit on our hearts to testify to our belonging to You our Father and to Jesus the Nazarene.  It is in His powerful Name we pray.  Amen.