Someone on social media recently attacked my character and passed judgment upon (1) my skin color and that of my friends, (2) my desire to point to the full Gospel and the full truth instead of to superficial things like feelings and cafeteria truth where you can take only what you want, (3) my inability to be omnipresent and omnipotent, doing all things for all people, and wait for it …(4) my patriotism since I had posted photos of flags for the 4th of July and Memorial Day.  (Good grief, some people.  Quick to judge and apparently, slow to view the level foot of the Cross.)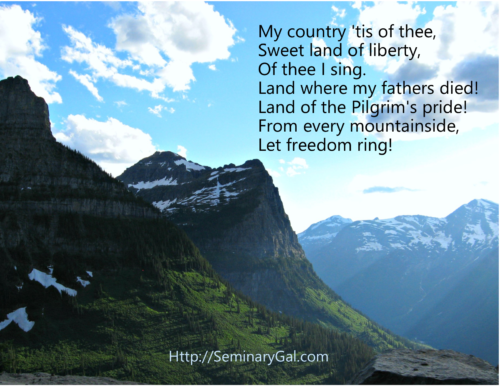 I decided to respond, not to the individual, but here…by rolling out patriotic hymns from our historic Christian hymnals.
Many of our hymnals contain what are called patriotic hymns, and in the United States, these hymns express gratitude to God for freedom, for the sacrifice others have done laying their lives down for their country, and for the beauty of this land we call America.  All of these things–liberty, personal sacrifice, and appreciation of this amazing creation–are biblical ideas and honor God to whom they ultimately point.
America used to be better at pointing to God and to the grace of our Lord and Savior Jesus Christ.  These days, it seems a generation's lens only records the worst and produces selfies.
For many decades our churches had hymnals in our pews, but there has been a change.  Pews of the common man as a faith community are gradually being removed in favor of individual chairs with no written record of praise to hold in our hands while we sing, with one voice, our gratitude and praise to God.  I'm not sure that's such a good thing.  Rubbing shoulders with our fellow man gives us connection as the Body of Christ.  Sadly, the audible word is soon forgotten–in one ear and out the other–but the written word has an enduring legacy, a lasting quality, and a depth of meaning that says it was worth putting into print.
My Country 'Tis of Thee was first titled America by its author and Baptist minister Samuel Francis Smith.  It is known both for its words and its tune which is the same as God Save the Queen (the British National Anthem).  Yet, even with that poke at the original Brexit (the colonies declaring ourselves to be the independent United States of America), the Gospel shines clearly in the lyrics even if the name of Jesus isn't mentioned.
To a Baptist minister who wrote it and to the Bible-believing and Word-studying Christian who sings it generations later, we cannot help but remember
that God delivers out of the slavery and oppression of this world and delivers us into glorious liberty that was perfected in Him.  (

John 8:36 "Therefore if the Son makes you free, you shall be free indeed.)

the stones will have their silence break if we fail to praise Him.  He is that worthy.   (

Luke 19:36 As Jesus went along, people spread their cloaks on the road. 37 When he came near the place where the road goes down the Mount of Olives, the whole crowd of disciples began joyfully to praise God in loud voices for all the miracles they had seen: 38 "Blessed is the king who comes in the name of the Lord!" "Peace in heaven and glory in the highest!" 39 Some of the Pharisees in the crowd said to Jesus, "Teacher, rebuke your disciples!" 40 "I tell you," he replied, "if they keep quiet, the stones will cry out." 41 As he approached Jerusalem and saw the city, he wept over it 42 and said, "If you, even you, had only known on this day what would bring you peace– but now it is hidden from your eyes.)

that freedom is a holy thing to be honored because the One who purchased it for us by His blood is holy and deserves our allegiance  (

1 Peter 1:15 But just as he who called you is holy, so be holy in all you do; 16 for it is written: "Be holy, because I am holy.")

and our protection in America is only by His might since He is our Great God and King, the only God no matter what this melting pot of syncretism might argue. (

Psalm 95:3 For the LORD is the great God, the great King above all gods

.)
Enjoy this version of America (My Country 'Tis of Thee) in a mix with He's Got the Whole World in His Hands performed by the lovely and talented Yolanda Adams  –a good reminder that the United States is but one country that God loves.  Patriotism for America doesn't mean God loves the rest of the world less.
My country 'tis of thee,
Sweet land of liberty,
Of thee I sing.
Land where my fathers died!
Land of the Pilgrim's pride!
From every mountain side,
Let freedom ring!
My native country, thee,
Land of the noble free,
Thy name I love.
I love thy rocks and rills,
Thy woods and templed hills;
My heart with rapture fills
Like that above.
Let music swell the breeze,
And ring from all the trees
Sweet freedom's song.
Let mortal tongues awake;
Let all that breathe partake;
Let rocks their silence break,
The sound prolong.
Our father's God to Thee,
Author of liberty,
To Thee we sing.
Long may our land be bright
With freedom's holy light;
Protect us by Thy might,
Great God, our King!