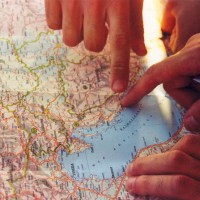 Today we begin exploring ways to walk on the Way of Holiness. 
It's better to have a guide than a map, as one person said to me.  Even in a GPS world, I think that still rings true.  At one point, I was driving with my son in Washington, DC.  We had our faithful GPS with us so we could find our way around.  One problem:  everything was under construction and the GPS didn't know it.
As the GPS desperately tried to reroute us back to the same road we knew was closed, we realized we'd prefer to have someone in the car with us who was familiar with the area—someone to guide us.  A GPS system at its best is just an interactive map, but a guide knows the lay of the land and can navigate paths for us to take even when a map fails us.
That is the basic message of today's passage:  Jesus' Holy Spirit is our best guide to the Way of Holiness.
For what the law was powerless to do in that it was weakened by the sinful nature, God did by sending his own Son in the likeness of sinful man to be a sin offering. And so he condemned sin in sinful man, in order that the righteous requirements of the law might be fully met in us, who do not live according to the sinful nature but according to the Spirit. Romans 8: 3-4
In areas where the map (the law) can only go so far in helping us arrive at our destination, Jesus paved the way for us.  He is our reliable guide and now it's His Holy Spirit who effectively guides us toward holy living…even when the map is confusing or tries to reroute us back to roads that are closed.
Do we want to see the everlasting joy on the horizon of the Way of Holiness?  The Bible says, we will experience life as we walk with God's Holy Spirit. 
Therefore, brothers, we have an obligation– but it is not to the sinful nature, to live according to it. For if you live according to the sinful nature, you will die; but if by the Spirit you put to death the misdeeds of the body, you will live, because those who are led by the Spirit of God are sons of God.  Romans 8:12-14
Have you decided to follow Jesus and let His Holy Spirit guide you?