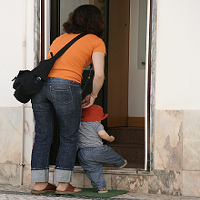 Our journey on the Way of Holiness during Lent began with preparation and continues with considering ways of being set apart as followers of Jesus Christ. In today's passage, 1 Peter 1:13-2:3, we see a focus on what it means to grow into the faith—to be set apart as spiritually mature people. 
None of us can really claim to having been born older…or mature in faith apart from time and effort.  Every once in a while someone will give me the opportunity to say one of my favorite things:  "We all start somewhere."  Whether it's Bible reading or gardening, etc., I'm always quick to remind myself and others that no one emerges from the womb carrying a Bible or having a green thumb.  We all start somewhere.   Big steps for some; little steps for others. 
Remembering where we started helps us in a variety of ways. 
First, we experience satisfaction and joy when we see the progress that we made. 
Second, it reminds us of the grace we have received (which helps to keep us humble enough to continually encourage others). 
But it also spurs hope when we're trying something new or difficult.
Peter reminds us 1 Peter 1:14 "As obedient children, do not conform to the evil desires you had when you lived in ignorance. 15 But just as he who called you is holy, so be holy in all you do; 16 for it is written: 'Be holy, because I am holy.'"
Be holy?  Can he be serious?  While that seems like an impossibly high goal, we all start somewhere.  As we learn, we will grow, provided we pay attention to what we have learned.
1 Peter 1:22 Now that you have purified yourselves by obeying the truth so that you have sincere love for your brothers, love one another deeply, from the heart….2: 2 Like newborn babies, crave pure spiritual milk, so that by it you may grow up in your salvation, 3 now that you have tasted that the Lord is good.
It won't happen all at once.  Becoming holy, set apart, pure, obedient, and loving—all these things take time.  We all start somewhere but the important thing is that we do start this journey toward maturity in our faith.