Don't let anyone look down on you because you are young, but set an example for the believers in speech, in life, in love, in faith and in purity… Be diligent in these matters; give yourself wholly to them, so that everyone may see your progress.  Watch your life and doctrine closely. Persevere in them, because if you do, you will save both yourself and your hearers. (1 Timothy 4: 12, 15-16)
We hear a lot about the end of the world as we know it.  Any time tragedies arise—tsunamis, wars, floods, earthquakes, volcanic eruptions, famine—we entertain ideas about the world's demise.  The Bible teaches us that the "last days" have been upon us since Jesus' death.  
But the reason for this instruction is never to worry or panic us.  It's so we'll be encouraged to stay on the Way of Holiness.  During His lifetime, Jesus told us the purpose of end-of-the-world events:  to keep us on high alert.  At times like these, Paul says, we need to watch our life and our doctrine closely.  It's not either life or doctrine.  It's both.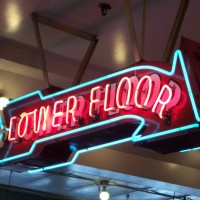 With so many roadside attractions and billboards distracting us toward a life of self-serving entertainment, a little end-of-the-world thinking reminds us of the destination and points us to the Bible:  a mirror showing us how we're living.  Looking into the Word of God (our doctrine), we see clearly whether our lives reflect the Way of Holiness. 
In the last days where it might feel more comfortable to fit in with the crowd, to let the seductiveness of sin yank us off the Way of Holiness, or let good intentions lead us down a path to hell, Paul encourages us to persevere in Christian authenticity—a life that carefully reflects what doctrine we believe.
One of the world's great criticisms of Christians is that we're hypocrites.   This should never be.  Christians should watch our lives and our doctrine closely because our lives are the most visible testimony of what we believe.  People can't read our minds, but they can observe our progress.  No thought bubbles appear over our heads, but our speech, love, life and purity follow us around as a vapor trail of the lives we lead.
As tragedies point others to fear and uncertainty about the future of this world, they should see Christians—alert, responsive, hopeful, encouraging, authentic, and real—and by observing our lives, see our hope in Christ.