Psalm 134:1 A song of ascents. Praise the LORD, all you servants of the LORD who minister by night in the house of the LORD. 2 Lift up your hands in the sanctuary and praise the LORD. 3 May the LORD, the Maker of heaven and earth, bless you from Zion.
Holy Saturday sometimes seems like kind of a lost day between Good Friday and Easter Sunday.  But even though today's devotional concludes the Lenten Devotional Series entitled Up to Jerusalem, the message of the final Song of Ascents (Psalm 134) isn't lost on us: It's All about Praise! 
Psalm 134 is the shortest Song of Ascents and in the entire Psalter, only Psalm 117 is shorter; but this final Song of Ascents is also one of the most powerful ones.  Plus, it's a fitting introduction to the remainder of the Psalms which are All about Praise to the God who answers prayers, hears our cry, supplies all our needs, protects us, and knows us.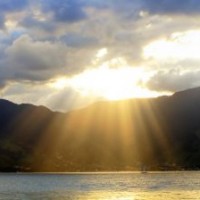 Holy Saturday.  We don't quite know what to do about it, but our psalmist gives us an answer on the top step on our spiritual pilgrimage Up to Jerusalem—it's All about Praise!  We have a realization that the spiritual pilgrimage continues. 
For the pilgrims of Jesus' day, worship at the temple was the high point of the year.  They returned home confident that those ministering before the Lord would carry on with worship for them.  But for our generation, it means there is more to discipleship than an Easter celebration—discipleship lives on and worship continues.  Beyond Good Friday, through Holy Saturday and beginning anew at Easter Sunday, we can continually walk in victory.  It's the walk of discipleship.
While Jesus was in the tomb, dead to this world, heaven was already rejoicing!  It was All about Praise!  You see, the work had already been done.  Jesus said, "It is finished" (John 19:30) and "with that, he bowed his head and gave up his spirit."  Jesus cried out in a loud voice, gave up His spirit and then Matthew tells us of a most amazing situation:
At that moment the curtain of the temple was torn in two from top to bottom. The earth shook and the rocks split.  The tombs broke open and the bodies of many holy people who had died were raised to life.  They came out of the tombs, and after Jesus' resurrection they went into the holy city and appeared to many people (Matthew 27:51-53).
Look carefully: the victory happened at the moment of Jesus' giving up His spirit.  We make a mistake if we think Jesus ceased to exist during the time His body was in the tomb, that Holy Saturday was some kind of lost day between Good Friday and Easter Sunday.
The victory was done.  It was all over but the shouting "He is Risen!"
What was going on in heaven on Holy Saturday?  It was no lost day, that's for sure.  The celebration had already begun.  Those who ministered all the time in the house of the Lord–in His heavenly dwelling–they were already praising God the Father, Son, and Holy Spirit for the total victory that Jesus accomplished.  It was All about Praise!
As spiritual pilgrims, we begin our journey Up to Jerusalem with discipleship, but we end our steps with praise. 
So, what should we do about Holy Saturday?  We can praise God by walking in Jesus' victory.  We can give Him honor and glory and thanks for enduring the Cross.  We can celebrate the Risen Lord and the eternal life He gives all year long.  Even before His bodily resurrection, the victory was won!  If you stop to think about it, Jesus' resurrection was simply the proof WE needed.  Heaven was already celebrating.  Therefore, we can press on with our daily discipleship knowing It's All about Praise!
***
While this concludes our Up to Jerusalem Lenten series, tomorrow there will be ongoing worship with the weekly Chapel Worship Guide and a recap of all fifteen Songs of Ascents.  Beyond Easter, I write periodic articles and devotionals as well as providing inspiration about gardening which you may enjoy as well.  I hope you will stay tuned as we continue our pilgrimage of praise.