Many of us long for significance, to have a legacy that lives on long after we die.  Consider the story of a man barely thirty years old who began a three year ministry during which He would radically impact the course of every life for all time.  Jesus Changes Everything.
Jesus went to a synagogue in Nazareth as He usually did, was handed the scroll of the prophet Isaiah and began reading,
The Spirit of the Lord is on me, because he has anointed me to preach good news to the poor. He has sent me to proclaim freedom for the prisoners and recovery of sight for the blind, to release the oppressed, to proclaim the year of the Lord's favor." Then he rolled up the scroll, gave it back to the attendant and sat down. The eyes of everyone in the synagogue were fastened on him, and he began by saying to them, "Today this scripture is fulfilled in your hearing."  All spoke well of him and were amazed at the gracious words that came from his lips. "Isn't this Joseph's son?" they asked. (Luke 4:18-22)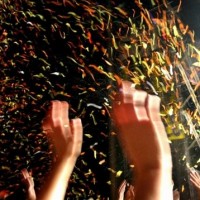 Jesus proclaimed He is the Messiah, the fulfillment of prophecy, that God's Spirit is upon Him as He embarks upon God's mission of setting all things right!  (Receiving your political party's nomination for a presidential run elicits cheers, balloons dropping, confetti, and large font headlines, yet it pales against Jesus' bold statement.)
I am the Messiah, Jesus announces!  One would expect instant celebrity status.  Instead, the pronouncement is met with a mighty thud because—already—they did not believe him.
Yeah, Jesus speaks gracious words, but…wait a minute, isn't this the son of Joseph the carpenter? 
Thud! 
Reverberating through the centuries, what we believe about Jesus—the God-Man who changes everything—has eternal consequences.
Who is Jesus?  Son of God and Messiah, or just another carpenter's son? 
Jesus fulfilled all prophecy regarding the coming Messiah and rose from the dead to prove He is the Savior, yet He is met—even today—with a spectrum from faith to rejection.  When the trumpet sounds and He returns as King of Kings and Lord of Lords, eternity will forever attest that what we believe about Jesus Changes Everything!
 ***
Who do you say Jesus is? How does this change your definition of success or significance?
Read also: Matthew 16:13-17, Matthew 24:30-31, Mark 14:61-62