Merry Christmas! 
Easy words to say.
Hard words to live out in the lives of so many around the world.
We're a world of darkness and fear.  A world of terror and trouble.  A world of discord and destruction.  A world of social media and unfathomable loneliness. 
We are a world careening toward anarchy and lawlessness.
Yet, there's hope because of what happened on Christmas Day. 
Isaiah 9: 5 Every warrior's boot used in battle and every garment rolled in blood will be destined for burning, will be fuel for the fire. 6 For to us a child is born, to us a son is given, and the government will be on his shoulders. And he will be called Wonderful Counselor, Mighty God, Everlasting Father, Prince of Peace. 7 Of the increase of his government and peace there will be no end. He will reign on David's throne and over his kingdom, establishing and upholding it with justice and righteousness from that time on and forever. The zeal of the LORD Almighty will accomplish this.
No more suitable carol would match Christmas than a carol arising from such dark depths.  Its origin is a poem called Christmas Bells, penned by Henry Wadsworth Longfellow on Christmas Day in 1863.  He was going through personally dark days following the death of his beloved wife Fanny and the injury sustained by his eldest son Charles Appleton Longfellow in the Civil War.
Fanny died in 1861 and Longfellow's journal that year at Christmas was silent.
The following Christmas, showing the enduring nature of grief, his journal stated, "'A merry Christmas' say the children, but that is no more for me."
Finally in 1863 on Christmas Day, Christmas Bells put ink to the longstanding grief and pointed Longfellow clearly upward to God.
The poem reads,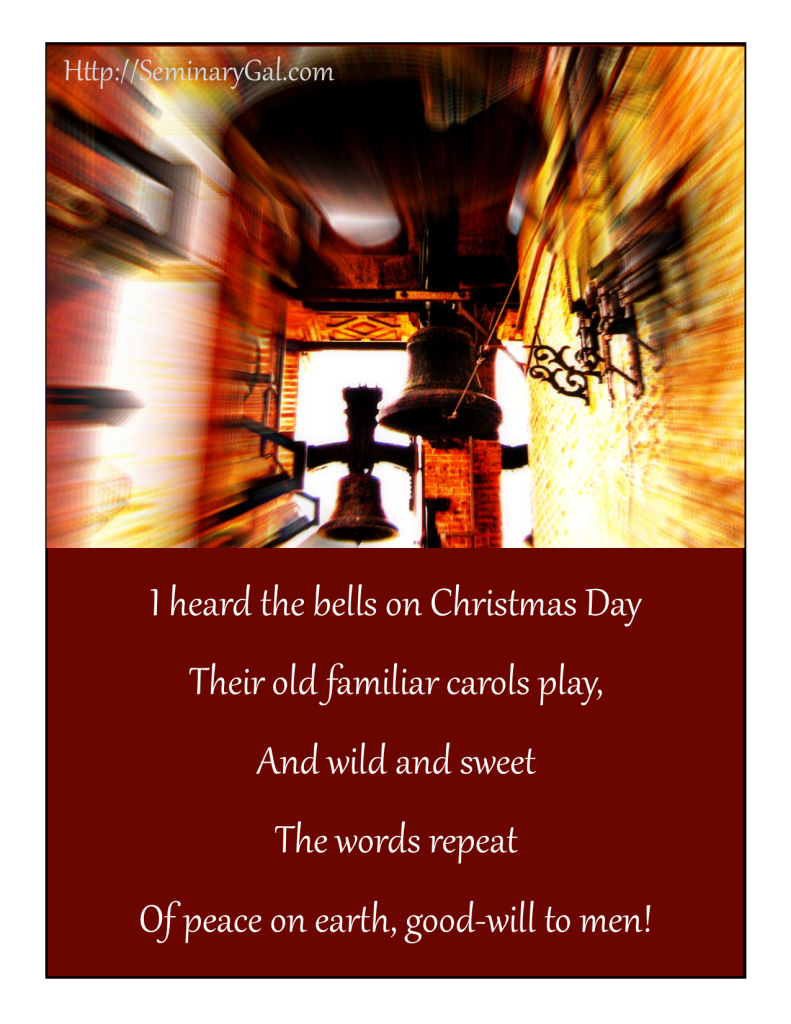 I heard the bells on Christmas Day
Their old familiar carols play,
And wild and sweet
The words repeat
Of peace on earth, good-will to men!
And thought how, as the day had come,
The belfries of all Christendom
Had rolled along
The unbroken song
Of peace on earth, good-will to men!
Till ringing, singing on its way,  The world revolved from night to day,
A voice, a chime,
A chant sublime
Of peace on earth, good-will to men!
Then from each black, accursed mouth
The cannon thundered in the South,
And with the sound
The carols drowned
Of peace on earth, good-will to men!
It was as if an earthquake rent
The hearth-stones of a continent,
And made forlorn
The households born
Of peace on earth, good-will to men!
And in despair I bowed my head;
"There is no peace on earth," I said;
"For hate is strong,
And mocks the song
Of peace on earth, good-will to men!"
Then pealed the bells more loud and deep:
"God is not dead, nor doth He sleep;
The Wrong shall fail,
The Right prevail,
With peace on earth, good-will to men."
You'll note that the carol—with powerful music supplied by John Baptiste Calkin—has omitted the two stanzas which specifically referenced the American Civil War.  (Longfellow was a staunch abolitionist and Christmas Bells strongly reflects Longfellow's life and times).  Calkin rearranged the 5 resulting stanzas in 1872, set them to music, and gave us a carol called I Heard the Bells on Christmas Day.
How appropriate that we conclude our series of Carol Me Christmas with words of hope that no matter how dark our world, God is not dead.  He doesn't sleep.  We might want to cry out,
God, where are you?" 

Why can't you do something?"
But on Christmas Day, God's answer would be
I am Immanuel which you'll remember means 'God with us.'  And I did something already: I came to you as the True Light in darkness.  If you believe in Me, there is eternal life ahead.  No one can snatch you out of my hands.
As you listen to this version by The Carpenters, read through the poem.  Think about how Jesus' coming as a baby in a manger changed everything.  Because of Him, there is hope.  Though the world is a dark one, the darkness is passing and the true light is already shining (1 John 2:8).
Merry Christmas!