What a church!
Divided, partisan, immoral ingrates
selfish, greedy, lawsuit-happy swindlers
idolaters
drunks
slanderers
sexually immoral, married but cheating adulterers
judgmental, undisciplined, and arrogant
immature sensationalists acting in every way with impropriety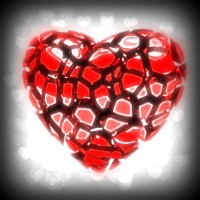 And of course, I'm talking about the church at Corinth. Today we're in Acts 18:1-17 as Paul continues on his second missionary journey—a journey of great brokenness.
Remember for a moment, Paul was kicked out of Philippi, chased out of Thessalonica where he was only bringing trouble on Jason and the other believing brothers; he had been hunted down in Berea and separated from his companions Silas and Timothy, and forced out to pagan Athens where few people would believe in the Good News.
Paul was broken on this 2nd missionary journey.  But there's Hope for the Broken.  There's Hope for all kinds of Broken.
Acts 18:1 After this, Paul left Athens and went to Corinth.
Corinth was an unlikely place to find Hope for the Broken. If you look up "broken" in the dictionary, you'd find a picture of the church at Corinth. Closely related words would be splintered, dysfunctional, loveless, judgmental, and trendy. Yet, for now at least, Paul will minister in Corinth as a thoroughly broken man.
Do you remember all the way back when Paul had just seen the resurrected Christ and was blinded by the light? Remember how he had those scale-like things on his eyes and Ananias had to go to Straight Street to set Paul straight and give him clear vision again? Do you remember the words that the Lord spoke to Ananias in a vision?
Acts 9:15 But the Lord said to Ananias, "Go! This man is my chosen instrument to carry my name before the Gentiles and their kings and before the people of Israel. 16 I will show him how much he must suffer for my name."
The Word of God is eternal and true. Paul has only begun to suffer…and he's already broken. John J. Parsons on Hebrew4Christians wrote a devotional on Psalm 34:18 [19h] stating,
Brokenness is the means through which God performs some of His deepest work within our hearts. A.W. Tozer once said, "It is doubtful whether God can bless a man greatly until he has hurt him deeply." Likewise Alan Redpath once wrote, "When God wants to do an impossible task, He takes an impossible individual—and crushes him."
There is healing and Hope for the Broken, for those who are willing to let God come near to touch their lives where it hurts the most.
Paul was a broken man. He had been throwing himself into the task of sharing the Gospel—exactly as he had been told—and has faced closed door after beautiful closed door…and even after seeing a vision of the open door, Paul still gets kicked out of towns even there in Macedonia in which he's only begun to minister.
So now, Paul is alone in a strange town. He knows no one. He's sad. And he's probably very confused. He's a brilliant guy, an excellent speaker, a fantastic theologian, and a compelling witness for Christ and yet, he may be wondering—in the flow of Acts—whether he's doing any good at all. He doesn't have the benefit of the rest of the New Testament to tell him there's light at the end of the tunnel and to give him a vision of exactly what an earth-changing impact this one man will make in his lifetime. For now, he's living it. He's broken and needs an injection of hope and encouragement.
God gives him Hope for the Broken in 5 different ways.
First, God gives Paul companionship with like-minded people. Aquila and Priscilla. "Coincidentally", they're tentmakers by vocation too.
2 There he met a Jew named Aquila, a native of Pontus, who had recently come from Italy with his wife Priscilla, because Claudius had ordered all the Jews to leave Rome. Paul went to see them, 3 and because he was a tentmaker as they were, he stayed and worked with them. 4 Every Sabbath he reasoned in the synagogue, trying to persuade Jews and Greeks.
Do you see how beautiful this is? Aquila and Priscilla had been kicked out of Rome along with all the other Jews…because as Suetonias in his chronicle Claudius tells us, this expulsion order was given because of the Jews and the "continual tumults instigated by the Chrestus [the Christ]." In other words, trouble wasn't just following Paul. It had followed all the Jews who went home from Pentecost with the coming of the Holy Spirit—all the way to Rome—and Jew and Christian alike were booted out of Rome because of all the trouble. Jesus didn't come to bring peace but a sword because the Truth Cuts Both Ways! It divides and makes trouble for followers of Christ. It did for Aquila and Priscilla. And they had common ground with Paul. Hope for the Broken in companionship with like-minded people. But also
5 When Silas and Timothy came from Macedonia, Paul devoted himself exclusively to preaching, testifying to the Jews that Jesus was the Christ.
A second way that God brings Hope is by bringing a reunion with old friends and encouragement that they brought with them. The churches Paul had founded were surviving and thriving. Hope for the Broken comes in progress reports and fuel for the fire to keep going.
6 But when the Jews opposed Paul and became abusive, he shook out his clothes in protest and said to them, "Your blood be on your own heads! I am clear of my responsibility. From now on I will go to the Gentiles."
God gives Hope for the Broken in the form of perspective. Paul preached to the Jews first and then the Gentiles, but there comes a time in which God releases people and tells us to let it go. It's hard to plant seeds and walk away, but this is how it is sometimes.
Just because we can't see what God is doing with things doesn't mean that God is equally blind.
God gives perspective that, in many ways, our scars make us who we are. I look at my own life. I'm sure you can find places in yours as well. Places in our lives where we've experienced pain, loneliness, sadness, frustration, despair, depression, and a host of other scars upon our lives, but you know what I've experienced? I've seen that God uses the pain of life to give me perspective.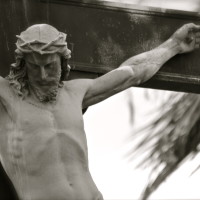 Hope for the Broken that it's OK that I'm broken, that my body has betrayed me with illness; friends have betrayed me so I would learn forgiveness; and that ministry would be born of the places of the greatest scars.
We follow a God like that.

Look at His hands.

Pierced for the sinner's forgiveness.
Scarred to toughen that wound we have and soften our hearts towards God and others.
Scott Krippayne has a song with lyrics that go like this:
All who sail the sea of faith
Find out before too long
How quickly blue skies can grow dark
And gentle winds grow strong
Suddenly fear is like white water
Pounding on the soul
Still we sail on knowing
That our Lord is in control
Sometimes He calms the storm
With a whispered peace be still
He can settle any sea
But it doesn't mean He will
Sometimes He holds us close
And lets the wind and waves go wild
Sometimes He calms the storm
And other times He calms His child
He has a reason for each trial
That we pass through in life
And though we're shaken
We cannot be pulled apart from Christ
No matter how the driving rain beats down
On those who hold to faith
A heart of trust will always
Be a quiet peaceful place
God gives Hope for the Broken in (1) companionship, (2) encouragement, and (3) perspective, but it's more than just that.
(4) God is as near as you need Him to be. Scott Krippayne calls the heart of trust a quiet peaceful place. The Hebrew4Christians devotional talks about that "close to the brokenhearted" as meaning near enough to touch. In Paul's case, God was with him and Hope was right next door where God had His work ready to roll. Right there in the neighborhood.
7 Then Paul left the synagogue and went next door to the house of Titius Justus, a worshiper of God. 8 Crispus, the synagogue ruler, and his entire household believed in the Lord; and many of the Corinthians who heard him believed and were baptized.
Success in ministry was next door. It was like God, as coach, was encouraging Paul to keep his pace going. A second wind was on its way. In the words of Dory in Finding Nemo, "Just keep swimming; just keep swimming."
9 One night the Lord spoke to Paul in a vision: "Do not be afraid; keep on speaking, do not be silent. 10 For I am with you, and no one is going to attack and harm you, because I have many people in this city." 11 So Paul stayed for a year and a half, teaching them the word of God.
And in case Paul didn't pick up on Hope for the Broken from what was next door, God make a point of driving home that message in a vision. It's not a mistake what you're doing. It's not a failure of ministry. It's OK, Paul, I know what's going on and it's all part of what you're going to suffer for my Name. I understand, Paul. I am with you. No one is going to attack or harm you, God says. Then He says something really interesting. "Because I have many people in this city."
A few things immediately come to mind. Like when Elijah heard the still small voice of God at Mount Horeb while crying out that he was the only prophet left.
1 Kings 19:14 He replied, "I have been very zealous for the LORD God Almighty. The Israelites have rejected your covenant, broken down your altars, and put your prophets to death with the sword. I am the only one left, and now they are trying to kill me too." 15 The LORD said to him, "Go back the way you came, and go to the Desert of Damascus. When you get there, anoint Hazael king over Aram. 16 Also, anoint Jehu son of Nimshi king over Israel, and anoint Elisha son of Shaphat from Abel Meholah to succeed you as prophet. 17 Jehu will put to death any who escape the sword of Hazael, and Elisha will put to death any who escape the sword of Jehu. 18 Yet I reserve seven thousand in Israel– all whose knees have not bowed down to Baal and all whose mouths have not kissed him."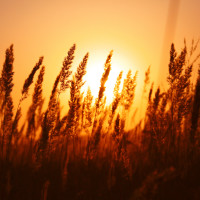 Paul was not alone just like Elijah wasn't alone.
Paul might not have been crying out on the outside like Elijah, but Paul was human and part of the human condition is to become weary in spirit as we do not see fruit for all our hard work. When we feel all alone. When we're working our fingers to the bone and there's no encouragement to be found.
God tells Paul that He has many people there.
In a field of wheat and tares, we see the weeds but God sees the wheat. It's there. It's still there. It's still wheat no matter how many weeds surround it.
God has many people, even in a broken place like Corinth. Reminds me also of Jonah's frustration at preaching to people he didn't feel like deserved it. To that mindset, God replies, Jonah 4:11 But Nineveh has more than a hundred and twenty thousand people who cannot tell their right hand from their left, and many cattle as well. Should I not be concerned about that great city?"
God is concerned even for people who are too broken to know that they're broken.
Such was the Church at Corinth. I can see why Paul may have been wondering if he was wasting his time in a fruitless endeavor. Spinning his wheels. Throwing good effort after bad. Imagine taking the worst of Washington DC, Las Vegas, and Chicago and making a church out of that. You'd have a picture of Corinth. It was a terribly broken place.
(5) Hope for the Broken means that a broken Paul would be used by God to minister to this broken city and form a church on a Gospel that heals the broken. Gives them hope in their brokenness.
Corinth was a broken place, but not without hope. If God can be concerned for Nineveh and for Corinth, no matter what brokenness you have in life, you are not beyond God's ability to offer hope and healing. But realistically speaking, the more baggage we have the more baggage we need to lay down. And the Corinthians had lots of baggage, probably made with fine Corinthian leather.
12 While Gallio was proconsul of Achaia, the Jews made a united attack on Paul and brought him into court. 13 "This man," they charged, "is persuading the people to worship God in ways contrary to the law." 14 Just as Paul was about to speak, Gallio said to the Jews, "If you Jews were making a complaint about some misdemeanor or serious crime, it would be reasonable for me to listen to you. 15 But since it involves questions about words and names and your own law– settle the matter yourselves. I will not be a judge of such things." 16 So he had them ejected from the court. 17 Then they all turned on Sosthenes the synagogue ruler and beat him in front of the court. But Gallio showed no concern whatever.
Paul would be falsely accused. Again. He was just about to speak (and demonstrate that Jesus Christ is the fulfillment of the Law) when Gallio ejected everyone from the court. To him, it was a Jewish problem not a Corinthian one. What would happen on the streets would stay on the streets. Poor Sosthenes was beaten on the courthouse steps, probably because he was the synagogue ruler. And yet Sosthenes, this Jewish synagogue leader, is mentioned one more time at the beginning of the first letter to the Corinthians as a companion of Paul's. Evidence that there is hope for the broken. The letters of Paul to the Church at Corinth are a manual, of sorts, for how to deal with broken churches. Timeless hope for God's Church. God offers Hope for the Broken.
Hope for a broken Sosthenes, Hope for a broken Corinth, Hope for a broken Paul. Broken in different ways, but broken all the same. Romans 5:8 But God demonstrates his own love for us in this: While we were still sinners, Christ died for us.
The Gospel is called Good News because it tells us of Hope. What kind of hope do you need today?
Hope for the Broken as…
Companionship
Encouragement
Perspective
Nearness of God and
Knowing He cares about you even while you are broken?
Today is the day to pray for God to give you the kind of hope you need. We all experience brokenness. But God can give hope in all these place. He offers Hope for the Broken.