Isaiah 66:1 This is what the LORD says: "Heaven is my throne, and the earth is my footstool. Where is the house you will build for me? Where will my resting place be? 2 Has not my hand made all these things, and so they came into being?" declares the LORD. "This is the one I esteem: he who is humble and contrite in spirit, and trembles at my word."
Sometimes we just don't get it. We think we can earn favor with God.
Maybe not so much with our minds, but in our actions.
Striving, striving, work, work, work, doing things for the Lord.
It's not only foolish, it's prideful. And I say this as one who learns this tough lesson over and again, only to lapse back into the same old routine until I remind myself of this truth: God doesn't need my help with anything.
All He wants is for me to recognize Him for who He is, for what He has done, and the absolute nature of it all.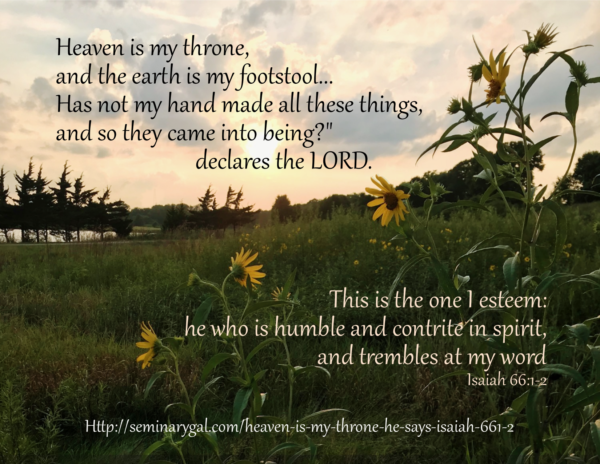 .
You see, there is no half-way with God. Part sovereign, part helpless? Part Creator and part experiencing Creator's block after that random accidental explosion in space surprised Him and now He's watching spell-bound as the warm little pond takes over? Part goodness and holiness …and part just not caring what we do? We ought not deceive ourselves. There is no 50:50 or even 85:15. It's all or nothing. He cares very much what we do, all the time.
God dwells in absolutes.
He is God and everything else…and I do mean everything…is created. Therefore, in my seeing Him rightly, I see myself as I am. Created. I can chill. He's got it covered. And my response can simply be humility, a contrite spirit, and trembling at God's word. Why? Because I see my smallness for real in the realm of the footstool. After all, He is King and "Heaven is My Throne," He says.
Think about it:
What has happened to absolutes in our culture?

Why do you think our culture rejects absolutes?

In what ways is our tendency to go on auto-pilot as if the sovereign of our lives is ourselves?

How has the drift away from acknowledging a Creator God contributed to this?
Praise Him—He is sovereign! Praise Him—He is good! Praise Him—He knows the stars and He knows your name, too. Praise Him—He will never leave you stranded half-way, He'll be with you to the end. Praise Him—He esteems those who know Him and obey His Word. Praise Him—He is above all circumstances and has all the power you'll ever need to solve any problem. Praise Him—He calms storms and He carries you through the ones His wisdom will not calm so your faith will grow. Praise Him—He is King and He reigns forever. Amen.