On this Easter 2018, let's acknowledge this Simple Truth of Scripture:

Jesus is Risen.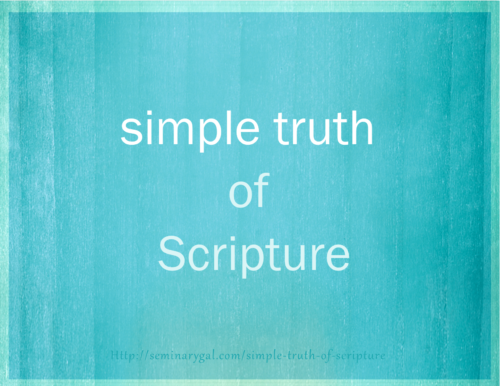 Luke 24:1 On the first day of the week, very early in the morning, the women took the spices they had prepared and went to the tomb. 2 They found the stone rolled away from the tomb, 3 but when they entered, they did not find the body of the Lord Jesus. 4 While they were wondering about this, suddenly two men in clothes that gleamed like lightning stood beside them. 5 In their fright the women bowed down with their faces to the ground, but the men said to them,
"Why do you look for the living among the dead?

6 He is not here; he has risen!
Remember how he told you, while he was still with you in Galilee: 7 'The Son of Man must be delivered into the hands of sinful men, be crucified and on the third day be raised again.'" 8 Then they remembered his words.
This Simple Truth makes all the difference in the world.
The grave could not hold Him. In Him, it cannot hold you back either.

Death is a defeated enemy and the battle is won. Jesus Christ is victorious and won the battle against death, a victory won for you and won for me, too.

Sin's curse and the wages of sin and death have been paid in full.

In Christ, we are forgiven.

In Him, we are free indeed! In Him, we no longer need to be slaves to sin or fear death.

In Christ and Christ alone, we have hope…hope of a resurrection, of an eternity in the presence of God, of strength for today and reward set in heaven for our perseverance in faith.
We have confidence that what He said is Simple Truth:
John 14:1 "Do not let your hearts be troubled. Trust in God; trust also in me. 2 In my Father's house are many rooms; if it were not so, I would have told you. I am going there to prepare a place for you. 3 And if I go and prepare a place for you, I will come back and take you to be with me that you also may be where I am."