Do you know grace enough for thorns? I know thorns. They're easy to find. The pain shows you the way to where they irritate and poke your flesh. Leave a thorn there long enough and the entry point will become inflamed, infected, and become a chronic reminder that the thorn is there, until you remove it, and even then, it hurts for a while.
In today's passage, Paul had thorn. He couldn't get rid of it. His was a "messenger of Satan" and God wouldn't take it away. The thorn had a purpose: to teach Paul about grace enough for thorns.
2 Corinthians 12: 7 To keep me from becoming conceited because of these surpassingly great revelations, there was given me a thorn in my flesh, a messenger of Satan, to torment me. 8 Three times I pleaded with the Lord to take it away from me. 9 But he said to me, "My grace is sufficient for you, for my power is made perfect in weakness." Therefore I will boast all the more gladly about my weaknesses, so that Christ's power may rest on me. 10 That is why, for Christ's sake, I delight in weaknesses, in insults, in hardships, in persecutions, in difficulties. For when I am weak, then I am strong.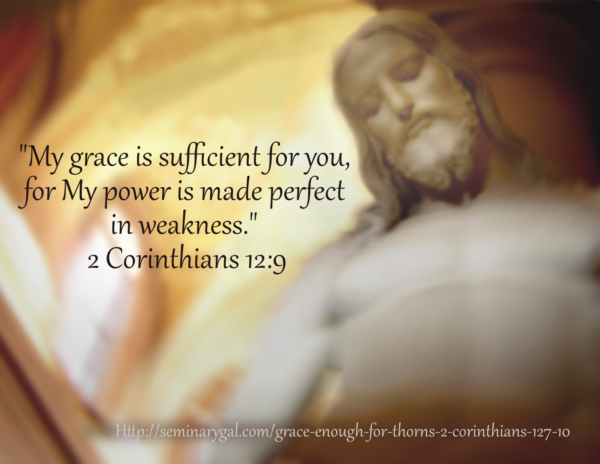 .
The pain and hardship in our lives can be a gift.
Whether it's the pain and hardship we bring on ourselves or that which we find chasing us down the street uninvited, it can be a gift. Even when we are unable to shake ourselves free from it, we can embrace the gift. The pain was great for Paul, and he pleaded three times, a number symbolic of completion. Paul wanted the thorn gone, gone, gone. God instead said "Grace, grace, grace…sufficient…as a gift, gift, gift…to show whose power is really at work."
The best and brightest among us, and Paul was certainly among that group, can suffer from the delusion that our successes are self-created…we are self-made men and women who get where we're going through hard work and great competence.
God allows thorns to keep us grounded,
a grim and glorious reminder that we are dust,
and His grace is enough to see us through.
Returning to our idea of absolutes, think about it:
Why would God give amazing revelations yet allow the perfect corrective of a thorn?

Why is God's power made perfect in our weakness?

Does God give us 95% of the grace we need and expect us to manufacture or scrounge up the other 5%… or does He give all we need…100%?
Praise God for grace enough for today, for tomorrow, and the next. Praise God that He sustains us one day at a time! Praise Him for His wisdom and for the training we receive through our difficulties. Praise Him for not giving us what we want, but exactly, completely, thoroughly, and absolutely everything "we need for life and godliness through our knowledge of Him who called us by His own glory and goodness." Amen.