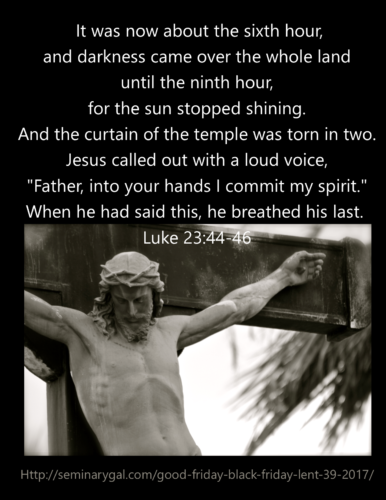 I always find myself wondering if anyone watching the events unfolding as Jesus was betrayed and scourged and crucified…"Didn't anyone have a conscience to bother them about what was happening?" It was a black Friday for the conscience, a Good Friday for what Jesus did with it. He paid it all.
In the world of retail, Black Friday is the symbolic date at which retailers make up their expenses, get out of a balance sheet running in the red (debt) and emerge to a positive accounting. In the Christian world, Good Friday is, in fact, the day in which our sins were paid in full and we can receive that positive accounting going forward by faith because Jesus died for our sins. Our debt was paid.
1 John 1: 5 This is the message we have heard from him and declare to you: God is light; in him there is no darkness at all. 6 If we claim to have fellowship with him and yet walk in the darkness, we lie and do not live out the truth. 7 But if we walk in the light, as he is in the light, we have fellowship with one another, and the blood of Jesus, his Son, purifies us from all sin.
Purified from sin! That's what happened on Good Friday, Black Friday. The Son of God, the Light of the World, was extinguished from our visible sight. He did battle against death as His true Light invaded a place we did not see for the deepest darkness. His Light turned our Black Friday into a Good Friday.
Luke 23:44 It was now about the sixth hour, and darkness came over the whole land until the ninth hour, 45 for the sun stopped shining. And the curtain of the temple was torn in two. 46 Jesus called out with a loud voice, "Father, into your hands I commit my spirit." When he had said this, he breathed his last.
When the sun stopped shining and darkness came upon the land (as recorded in Luke 23:39-48), did no one think about what they were doing?

Do we?
Fun Fact of Light: Projecting Black. Have you ever wondered how a projector showing a movie or a display monitor of a computer could project the color black? Physicist Dr. Christopher Baird explains,
Our human eyes and brains are designed to evaluate a color based on how it looks relative to the colors of the surrounding objects, rather than based on the absolute spectral content of the color…. When you turn on the room lights, you flood both the black and white regions of the projected image with white light, thereby decreasing the contrast between dark and light in the image…The fact that we watch projected movies in darkened rooms is direct evidence that projectors can't emit literal black, but instead emit dim white light which is interpreted as black when the contrast is high enough.
For Further Thought:
When viewed next to the purity of Christ, His holiness, His perfection, and His divinity, how does anyone look with respect to sin?

Many people tend to have a sliding scale with Mother Teresa on one end and Hitler on the other end in terms of goodness and depending on our actions we can slide toward Mother Teresa or Hitler.

How does God view this sliding scale?

Read

Romans 3:20 Therefore no one will be declared righteous in his sight by observing the law; rather, through the law we become conscious of sin. 21 But now a righteousness from God, apart from law, has been made known, to which the Law and the Prophets testify. 22 This righteousness from God comes through faith in Jesus Christ to all who believe. There is no difference, 23 for all have sinned and fall short of the glory of God, 24 and are justified freely by his grace through the redemption that came by Christ Jesus. 25 God presented him as a sacrifice of atonement, through faith in his blood.
Lord Jesus, we're sorry that human sin ruined our relationship with God Almighty. We're sorry that we caused it and that You were sent to die because of it. And yet, Lord, we're grateful that You didn't count our sins against us, but that You died so that we should no longer live for ourselves but for You and Your glory. Thank You Father that it is through the Son we receive this gift of reconciliation. (2 Corinthians 5:15-19). We praise You that our Black Friday can be such a Good Friday because of Your victory over death and canceling the written code that stood against us, reminding us of the folly of believing we could be good enough to enter heaven on our own. Thank You, Jesus, for redeeming us anyway. Amen.
.