Hurricane Harvey has been bearing down upon the Gulf Coast of Texas between Port Aransas and Port O'Connor, working its way inland, apparently missing the motto "Don't mess with Texas." Or oblivious to it. Such forces of nature strike fear in people's hearts and rightfully so. They can cause untold damage to people's lives and property. And with nothing but an act of God to stop it, people turn everywhere in need of comfort and solace, a little bit of peace, and a place to rest their broken hearts. God Shelters Me are Three Words for Day-to-Day-Christian Living to comfort us at such times.
God Shelters Me? Ae you kidding me? How can you say that at a time like this? God could stop it, but He didn't and He isn't!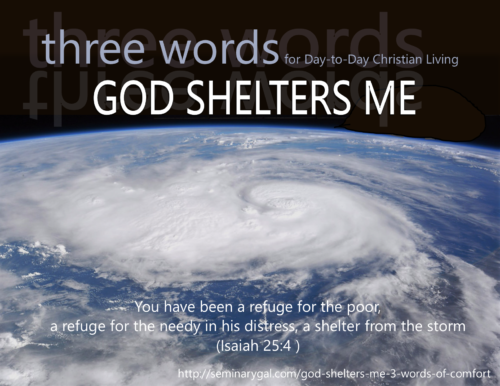 Hard as it is for us to accept, God's unwillingness to stop "natural disasters" is not at conflict—whatsoever—with either His goodness or His power.
He's interrupting the godless bankruptcy of our lives and the futile reliance upon all other things. And out of His goodness and His power—and importantly eternal perspective—He's giving us the only thing that will draw our attention away from iPhones, Twitter, and Netflix and toward the only One who can save us in the long haul. Before it's too late for the ultimate disaster.
God Shelters Me, maybe not from the rain and floods, but from an eternity apart from Him. For those who have made God their shelter, Psalm 91 offers this comfort:
Psalm 91:1 He who dwells in the shelter of the Most High will rest in the shadow of the Almighty. 2 I will say of the LORD, "He is my refuge and my fortress, my God, in whom I trust." … 14 "Because he loves me," says the LORD, "I will rescue him; I will protect him, for he acknowledges my name. 15 He will call upon me, and I will answer him; I will be with him in trouble, I will deliver him and honor him. 16 With long life will I satisfy him and show him my salvation."
Read all of Psalm 91 and find your heart and spirit comforted. God's promise is not that disaster won't happen, or come near to you, but God shelters those who love Him. God is far more concerned with the eternal disposition of your soul, than the temporary condition of your circumstances. If you and I make Him our shelter by faith in Him, the storm may last for a night or even a few days, the clean-up maybe months or years into the future, but your soul will be rescued for eternity.
That's why it is so comforting when you can say, "God Shelters Me."
===
This "three word" series is archived beginning July 22, 2017.