Today we conclude our Scriptural basis for Overcoming in our series on 5 Kingdom Principles in Jesus' Example for Suffering Christians.  Next week, we will explore how these principles apply to everyday issues.  These Scriptural principles apply in every situation.  You see, Overcoming isn't passé or old-fashioned.  It is every bit as relevant today as it was when God told Cain,
"Why are you angry? Why is your face downcast?  If you do what is right, will you not be accepted? But if you do not do what is right, sin is crouching at your door; it desires to have you, but you must master it."  (Genesis 4:6-7)
Sin still crouches.  It waits to pounce and devour.  It wants us to yield to human ways and secure our desires for a heavenly existence by human effort.  We can master sin (or God wouldn't have told Cain he needed to master it), but it takes doing that God's way–Jesus' way, with the example He set in 1 Peter 2:21-23 which have been our theme verses on Overcoming.
By faith, Christians have a grand heritage—as have God's people throughout the ages—to be Overcomers.
The words of today's hymn (written by Richard Mant in 1824) forcefully proclaim this great heritage of victory by Kingdom Power.   You can listen on the cyberhymnal or at this link for those of you who have been wondering when I'm going to include a hymn played on the most beloved music instrument of the traditional church, the instrument created for playing hymns: the organ.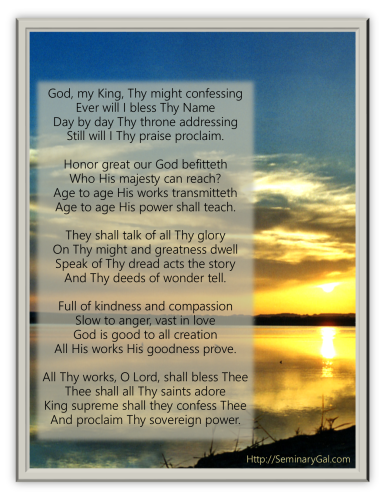 God My King Thy Might Confessing
God, my King, Thy might confessing,
Ever will I bless Thy Name;
Day by day Thy throne addressing,
Still will I Thy praise proclaim.
Honor great our God befitteth;
Who His majesty can reach?
Age to age His works transmitteth,
Age to age His power shall teach.
They shall talk of all Thy glory,
On Thy might and greatness dwell,
Speak of Thy dread acts the story,
And Thy deeds of wonder tell.
Nor shall fail from memory's treasure
Works by love and mercy wrought;
Works of love surpassing measure,
Works of mercy passing thought.
Full of kindness and compassion,
Slow to anger, vast in love,
God is good to all creation;
All His works His goodness prove.
All Thy works, O Lord, shall bless Thee;
Thee shall all Thy saints adore:
King supreme shall they confess Thee,
And proclaim Thy sovereign power.