It's the end of the season–the last of the glories of 2011.  There's something sentimental about the last of the best from a season gone by and preparing to close the book on another year's gardening.  As we go from October to November, I want to finish well.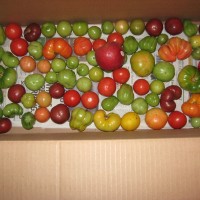 How do I ripen green tomatoes?  I picked the last of this year's tomatoes and placed them into a cardboard box to ripen.  They don't need light to ripen, but a little boost of additional natural ripening agent called ethylene goes a long way in helping them to develop fully.  I used an apple as my source of ethylene since bananas, often recommended, attract fruit flies way too easily and turn brown way too quickly.  You can see the apple, the Black Krim, Green Zebra, Early Girl, and Northern Lights easily as they rest upon layers of newspaper in a cardboard box.  I closed up the box, placed it in an out-of-the-way location until they began to develop colors like this.  I remove the ripened tomatoes as their color becomes characteristic of their varieties.  I don't want them to over-ripen since one rotten tomato spoils the whole bunch really quickly.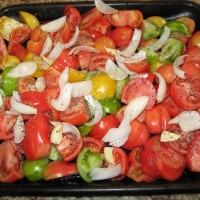 Eventually, almost all of the tomatoes turned color and were suitable for eating.  I may have lost 2 or 3 to a lesion on the fruit, but most were perfect for roasting in the oven with olive oil, onion, garlic, salt and pepper.   The flavor of fresh tomatoes ripened off the vine is never quite as intense as those ripening on the vine in the heat of July, but oven roasting them intensifies the flavor by evaporating away much of the water that most fruits contain in large quantities.  Freezing the mixture allows me to have a happy remembrance of summer on some cold winter night.  It tastes particularly good as seafood cioppino.  The last of the garden tomatoes sees a happy ending as a bit of Italian heaven.
I pause long enough to enjoy the last of the outdoor bloomers.  Some flowers are at their height of glory during the crisp days of fall.  Japanese Anemone, Aconitum, Asters, and Sedum are showstoppers with their floral display at this season.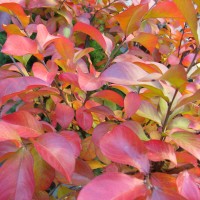 Even the colorful foliage of some plants can take your breath away.  My 'Burgundy Cotton' crape myrtle turns an intense red-orange that simply cannot be beat and makes it worth overwintering this plant in my garage.  I fed it for the last time a month ago with a "winterizer" fertilizer.  With its higher potassium (K) ratio, it prepares the plant to go dormant.  I avoid high nitrogen fertilizers on everything but houseplants this time of year.  I want to keep my plants from staying active and growing new leaves.  Instead, I want them to think about their roots, going dormant, and staying alive through the winter.  The root system of my crape myrtle can survive down to freezing, so I leave it outdoors until we start to experience frosts.  This actually helps to convince the plant to enter dormancy.
I'm trying again with my mandevilla vine, treating it the same way.  I've not had much success in the past, so I'm going to try using the same approach with this as I've found helpful with my hibiscus (another zone 8-9 plant).  Perhaps this year, there will be survival–a welcome alternative–and another plant kept alive through the winter.  Gardening is often a matter of trial and error: you win some, you lose some…inevitably.
I know what works with my roses and hydrangeas.  It's still too early though to prepare them for winter.  My collection of potted roses, garden roses, and my marginally hardy hydrangeas (including Nikko Blue) need special winter protection in my area.  But this must wait until we've had a few hard frosts.  These eager growers are stubborn about giving in to a good winter's rest.  The hard frosty nights produce frost resembling a thin layer of snow, and I'm waiting for this necessary occurrence before I can prepare these outdoor plants for winter.
My supplies are on hand and I'm ready to dress these plants for survival.  I have bags of mini-pine bark nuggets which pour even if frozen a bit.  These will be used to cover the graft union of the roses.  My trench is prepared in my compost pile in the back woods.  It's filled with leaves at present.  I also have paper yard waste bags filled with leaves that will surround my cold sensitive hydrangeas after they drop their leaves.  I am all prepared, waiting for the hard frosts to come.  I will do an update showing how to overwinter roses and hydranges in a week or two.
There is a time for everything, and a season for every activity under heaven: 
a time to be born and a time to die, a time to plant and a time to uproot 
Ecclesiastes 3:1-2