Sow a thought, and reap an act. Sow an act and reap a habit. Sow a habit and reap a character. Sow a character and reap a destiny."
Perhaps you've heard that quote which has been attributed to a bazillion people. I'd argue that you reap a legacy every bit as much as you do a destiny. A destiny is a fixed point. It's future-oriented and suggests that no power is strong enough to overcome what will happen in the future. It's automatic, like fate or doom. Or on the positive side, it can be a great decision you made that is irreversible. Like salvation in Christ: your future is sealed. In the end, you're either victorious by a wise decision of no return, or at one's last breath, a casualty of one's prior actions, fixed, sealed. No U-Turns for U.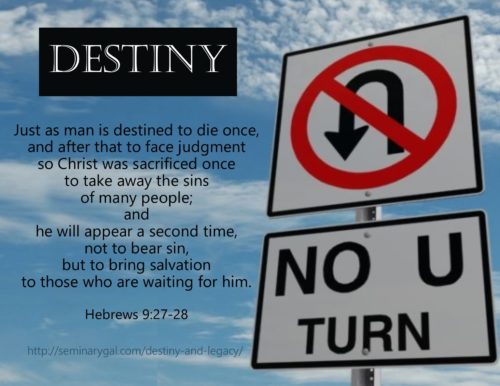 Legacy transcends, however, and looks backward over what a person achieved. It records for history what was sown as a thought, an act, a habit, and one's legacy reflects one's character. It records (nothing more, nothing less) than the unembellished history of what a person did, both good and bad.
So this brings up a good question: Can one craft a legacy like one writes a resume to put one's best foot forward … or is any man's legacy a matter for historians? That what's been done is done and there are no U-Turns.
I think of Carrie Fisher and her longtime battle with mental illness. It's right there alongside her rebellious youth, her iconic role as Princess Leia, her reconciliation and subsequent devotion to her mother, and her life remembered as lovely, witty, and bright in the fond recollections of her many friends.
Don't you find it interesting that in the life of Christ recorded in Philippians 2 His life wasn't all glory and roses on earth, but His legacy included giving up everything, making Himself as nothing, and enduring the cross, a sure sign of ignominy? Ah, but His legacy is not only the past and we can learn something important about legacy versus destiny.
Philippians 2: 5 Your attitude should be the same as that of Christ Jesus: 6 Who, being in very nature God, did not consider equality with God something to be grasped, 7 but made himself nothing, taking the very nature of a servant, being made in human likeness. 8 And being found in appearance as a man, he humbled himself and became obedient to death– even death on a cross! 9 Therefore God exalted him to the highest place and gave him the name that is above every name, 10 that at the name of Jesus every knee should bow, in heaven and on earth and under the earth, 11 and every tongue confess that Jesus Christ is Lord, to the glory of God the Father.
So let's not be preoccupied with crafting a legacy of perfection on earth, doing a pointless and vain make-over of an imperfect life. Or try to smooth out the bumps in the road behind us to make it look like the journey was pristine when it was real. There's a better legacy ahead—a perfect legacy– for those whose destiny includes eternity with Jesus Christ and by sharing the good news, being a witness for bringing people to heaven.
Just as man is destined to die once, and after that to face judgment so Christ was sacrificed once to take away the sins of many people; and he will appear a second time, not to bear sin, but to bring salvation to those who are waiting for him. (Hebrews 9:27-28)
It should inspire mission because people and faith in Christ are all we can bring with us to heaven. At our death, we can leave behind us a spiritual legacy that we also take with us. By faith in Christ through our words of testimony, their destiny becomes–in a sense–our legacy, too.