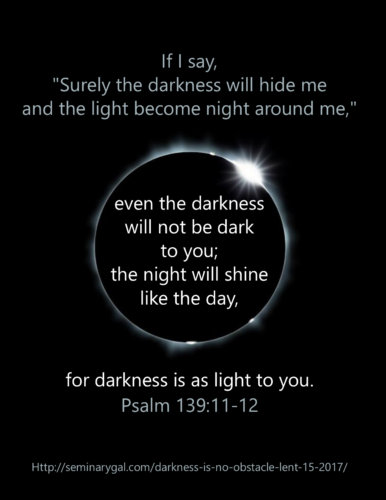 Psalm 139:7 Where can I go from your Spirit? Where can I flee from your presence? 8 If I go up to the heavens, you are there; if I make my bed in the depths, you are there. 9 If I rise on the wings of the dawn, if I settle on the far side of the sea, 10 even there your hand will guide me, your right hand will hold me fast. 11 If I say, "Surely the darkness will hide me and the light become night around me," 12 even the darkness will not be dark to you; the night will shine like the day, for darkness is as light to you … 23 Search me, O God, and know my heart; test me and know my anxious thoughts. 24 See if there is any offensive way in me, and lead me in the way everlasting.
Issues of light and darkness are no obstacle for God. It's not like He has X-ray vision. He can just see everywhere, all the time, and He knows everything. For that reason, when Scripture says that "darkness is as light to Him" we can understand that to mean that He is inescapable. There is no place we can go to escape Him and nothing we can do that He can't see.
How does it make you feel that God can see everything?
We can get upset that the NSA can see into our homes and listen in on our conversations. God can do it without equipment, technology, and even without a warrant (ahem). And His memory is flawless. Darkness—perhaps an issue for some types of NSA surveillance—is no obstacle for God. It's like He has one of those night vision goggles on … except He doesn't need them.
Fun Fact of Light: According to How Stuff Works (Tech), author Jeff Tyson writes :
"The first thing you probably think of when you see the words night vision is a spy or action movie you've seen, in which someone straps on a pair of night-vision goggles to find someone else in a dark building on a moonless night. And you may have wondered "Do those things really work? Can you actually see in the dark?"
The answer is most definitely yes. With the proper night-vision equipment, you can see a person standing over 200 yards (183 m) away on a moonless, cloudy night! Night vision can work in two very different ways, depending on the technology used.
Image enhancement – This works by collecting the tiny amounts of light, including the lower portion of the infrared light spectrum, that are present but may be imperceptible to our eyes, and amplifying it to the point that we can easily observe the image.
Thermal imaging – This technology operates by capturing the upper portion of the infrared light spectrum, which is emitted as heat by objects instead of simply reflected as light. Hotter objects, such as warm bodies, emit more of this light than cooler objects like trees or buildings."
For further thought:
Read all of Psalm 139.

It's often used to support the pro-life position in the abortion debate.

How might God's ability to see all that we do speak to that debate?

How might the obstacle of vision in darkness be resolved?

For insight, read

1 Corinthians 13:12 "Now we see but a poor reflection as in a mirror; then we shall see face to face. Now I know in part; then I shall know fully, even as I am

fully known" and also

Revelation 21:23 "The city does not need the sun or the moon to shine on it, for the glory of God gives it light, and the Lamb is its lamp. 24 The nations will walk by its light, and the kings of the earth will bring their splendor into it. 25 On no day will its gates ever be shut, for there will be no night there."
Thank You, Father, that even though You see all things and know all things, yet you do not count men's sins against them once they've been forgiven in Christ. Thank You for Your great love to those who fear You and for removing our transgressions from us. (Psalm 103:11-14) Thank You for Your compassion upon us even though we are dust and a breath, here today and gone tomorrow.