Service Order for 9:00 AM
Sunday, April 22, 2012
Nemmers Family Chapel at Advocate Condell  
Prelude: Allan Koetz
Welcome: Barbara Shafer, Christ Church Highland Park
Worship in Song (Allan Koetz):
 Come, Now is the Time to Worship (written by Brian Doerksen)
 He Knows My Name (written by Paul Baloche)
Old Testament Reading: Daniel 3:24-27
Daniel 3:24 Then King Nebuchadnezzar leaped to his feet in amazement and asked his advisers, "Weren't there three men that we tied up and threw into the fire?" They replied, "Certainly, O king." 25 He said, "Look! I see four men walking around in the fire, unbound and unharmed, and the fourth looks like a son of the gods." 26 Nebuchadnezzar then approached the opening of the blazing furnace and shouted, "Shadrach, Meshach and Abednego, servants of the Most High God, come out! Come here!" So Shadrach, Meshach and Abednego came out of the fire, 27 and the satraps, prefects, governors and royal advisers crowded around them. They saw that the fire had not harmed their bodies, nor was a hair of their heads singed; their robes were not scorched, and there was no smell of fire on them.
Worship in Song (Allan Koetz): I Need Thee Every Hour (Hymn 340)
 New Testament Reading 1 John 4:7-18a
1 John 4:7 Dear friends, let us love one another, for love comes from God. Everyone who loves has been born of God and knows God. 8 Whoever does not love does not know God, because God is love. 9 This is how God showed his love among us: He sent his one and only Son into the world that we might live through him. 10 This is love: not that we loved God, but that he loved us and sent his Son as an atoning sacrifice for our sins. 11 Dear friends, since God so loved us, we also ought to love one another. 12 No one has ever seen God; but if we love one another, God lives in us and his love is made complete in us. 13 We know that we live in him and he in us, because he has given us of his Spirit. 14 And we have seen and testify that the Father has sent his Son to be the Savior of the world. 15 If anyone acknowledges that Jesus is the Son of God, God lives in him and he in God. 16 And so we know and rely on the love God has for us. God is love. Whoever lives in love lives in God, and God in him. 17 In this way, love is made complete among us so that we will have confidence on the day of judgment, because in this world we are like him. 18 There is no fear in love. But perfect love drives out fear…
Prayer
Message—Barbara Shafer "He is the One Who Knows You…"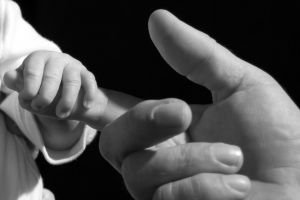 In our new series, "Who is this King of Glory?" we are answering the question, Who is God?  Today we see, "He is the One Who Knows You…" and we look at His immanence, His closeness, and His personal touch.
We see 3 statements of God's personal touch in today's passage, Jeremiah 1:5– 
"Before I formed you in the womb I knew you, before you were born I set you apart; I appointed you as a prophet to the nations."
I knew you,  
I set you apart; 
I appointed you
You don't have to Let Go and Let God as throwing up your hands and surrendering to some impersonal force. You can, however, place your hope and your life in the hands of the One who knows you from before you were ever born, the One who sets you apart, and the One who has plans to prosper you. Maybe you don't see Him now, but He's present. He's close. He's there when you're in the furnace of life, when you're looking for Him, and when you wonder where He is. Trust in Him. Who is this King of Glory? He's the immanent God—the One who knows you.
Response in song (Allan Koetz):  Great is Thy Faithfulness (Hymn 37) 
Benediction: Barbara Shafer
Postlude: Allan Koetz