"But you promised!" How many times have any of us uttered that when someone didn't do what we wanted them to? With God, it's different.
When God promises something, He doesn't owe us anything:
not our plan, not our hopes, not our timetable,
and most certainly not apart from Him.
He owes us only His plan on His timetable.
Such is the case with the patriarchs as Stephen (of martyrdom fame) reminds us in Acts 7. He begins with Abraham all the way to Christ Jesus to prove God's plan happens faithfully on God's timetable.
Acts 7:3 'Leave your country and your people,' God said, 'and go to the land I will show you.' 4 "So he left the land of the Chaldeans and settled in Harran. After the death of his father, God sent him to this land where you are now living. 5 He gave him no inheritance here, not even enough ground to set his foot on. But God promised him that he and his descendants after him would possess the land, even though at that time Abraham had no child.
But God promised… Abraham an inheritance, just not now.
6 God spoke to him in this way: 'For four hundred years your descendants will be strangers in a country not their own, and they will be enslaved and mistreated. 7 But I will punish the nation they serve as slaves,' God said, 'and afterward they will come out of that country and worship me in this place.'
But God … let them be purified by suffering.
8 Then he gave Abraham the covenant of circumcision. And Abraham became the father of Isaac and circumcised him eight days after his birth. Later Isaac became the father of Jacob, and Jacob became the father of the twelve patriarchs. 9 "Because the patriarchs were jealous of Joseph, they sold him as a slave into Egypt.
But God … doesn't design gratuitous suffering. It was part of God's plan for the community and for Joseph personally.
"But God was with him 10 and rescued him from all his troubles. He gave Joseph wisdom and enabled him to gain the goodwill of Pharaoh king of Egypt. So Pharaoh made him ruler over Egypt and all his palace. 11 "Then a famine struck all Egypt and Canaan, bringing great suffering, and our ancestors could not find food. 12 When Jacob heard that there was grain in Egypt, he sent our forefathers on their first visit. 13 On their second visit, Joseph told his brothers who he was, and Pharaoh learned about Joseph's family. 14 After this, Joseph sent for his father Jacob and his whole family, seventy-five in all. 15 Then Jacob went down to Egypt, where he and our ancestors died."
So what do we do with promises yet unfulfilled?
Doubt God? Reject Him?
Stop believing?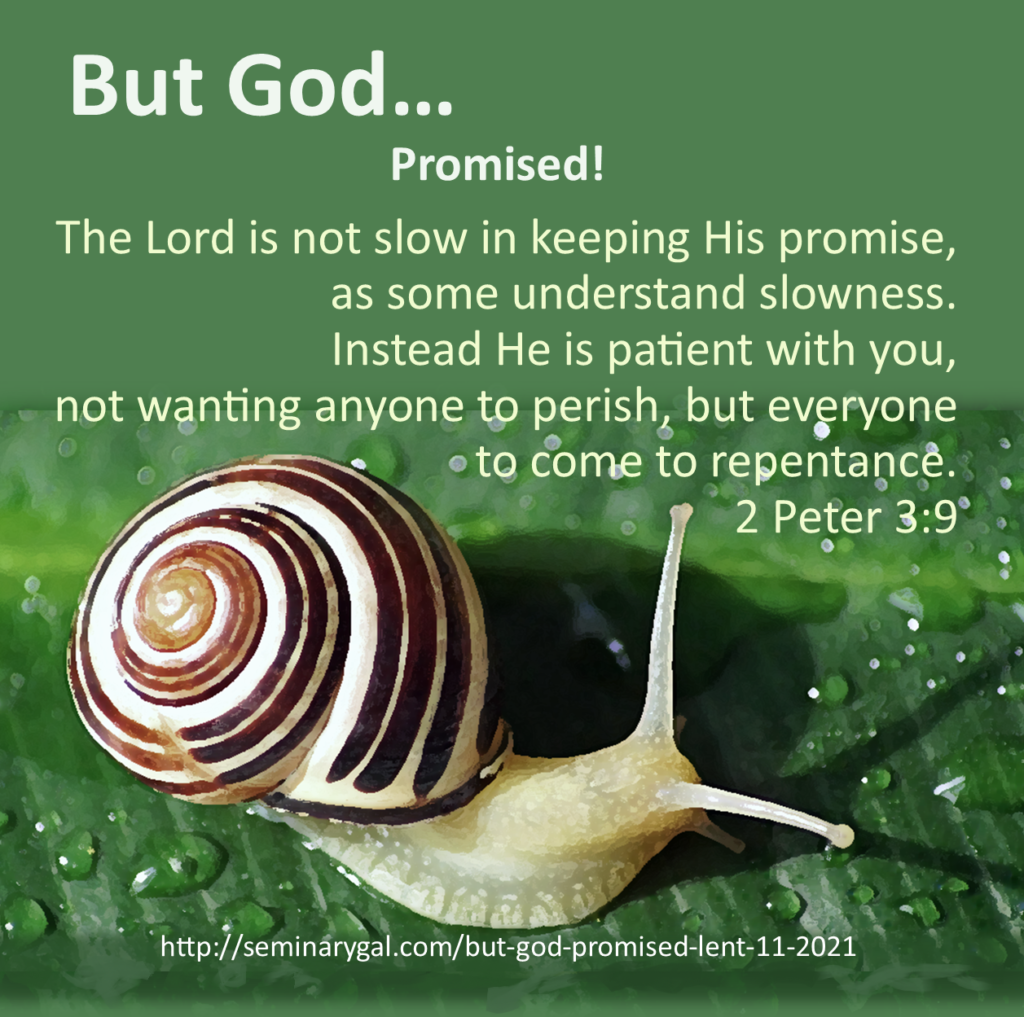 Scripture tells us what is going on. "The Lord is not slow in keeping His promise, as some understand slowness. Instead he is patient with you, not wanting anyone to perish, but everyone to come to repentance. But the day of the Lord will come like a thief. The heavens will disappear with a roar; the elements will be destroyed by fire, and the earth and everything done in it will be laid bare. Since everything will be destroyed in this way, what kind of people ought you to be? You ought to live holy and godly lives as you look forward to the day of God and speed its coming. That day will bring about the destruction of the heavens by fire, and the elements will melt in the heat. But in keeping with His promise we are looking forward to a new heaven and a new earth, where righteousness dwells. (2 Peter 3:9-13)
Thank You, Lord, that Your plan didn't end with a promise delayed, a Last Day, or even with the empty tomb.  Just like a second visit where Joseph revealed himself, Your Son Jesus will have a second visit, a second Advent, a Second Coming to us.  So Father, we prepare our hearts during Lent 2021 with awareness that But for God, our hope would not exist. So we acknowledge Jesus' first coming and culmination in crucifixion, burial, and resurrection…so that we may be ready for His Second Coming.  Lord God, purify us now.  Give to us the gift of faith so that we might be found faithfully watching, prepared for His Return.  In Christ and for His glory, Amen.
===
If you're already signed up on my Home Page sidebar to receive posts, you'll get the 2021 Lent Devotionals automatically. Or you can "Like" Seminary Gal on Facebook and they'll be delivered to your Facebook news feed. If you haven't signed up, today is a great day to do so. Advent and Lenten devotionals remain among my most popular offerings. You don't want to miss this encounter with God to prepare your heart for Easter! Understanding that prior years' devotionals continue to minister, you may want to have access to a full series ahead of time: