As we continue looking at "But God…" and this intervention in the lives of men, we have focused upon the desperate situation of human sin, God's wrath, and His holiness.  But we must be careful not to confuse what we might say with what God has spoken.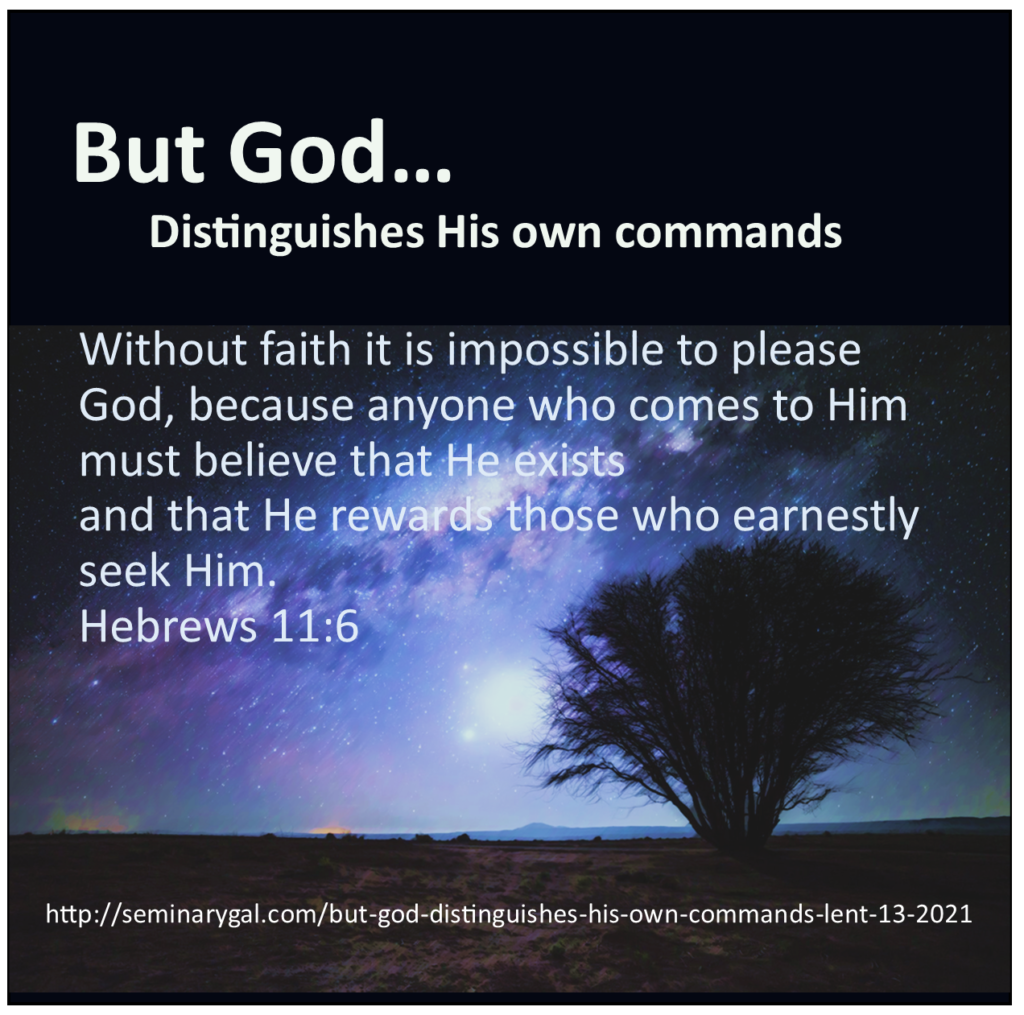 God guards His holiness, but He isn't bound by what we layer over, as human ideas, upon God's desires. Such is the case with another odd passage dating back to Saul's time as king. Saul wasn't exactly a model worshiper of God, and he let his being selected king go to his head. For Saul, offering his own sacrifice instead of waiting a couple more hours for Samuel proved disastrous. Saul's way wasn't just as good as God's way.
For Saul, fighting enemies had become personal…for his own glory and his own pride, but not for God's. 
Few things display this better than in 1 Samuel 13-14. Saul's troops are hiding in a cave, quaking.  Saul is resting under a tree.  His manmade choice of priest tagging along to appear spiritual was one related to Ichabod, a name meaning "the glory has departed." (Well, isn't that telling!)  Saul was continuing his own conquest without checking in with God—in God's way—which is why the glory of Saul's kingship was beyond over.
Think about how often we go our own way
instead of listening for the voice of God. 
Demanding now!  When God says wait for it.
You see, God distinguishes between His will and man's. 
Meanwhile in our story, away from the camp, Saul's son Jonathan was stepping out in faith as a major league Bible hero.  His step-by-step trust in God gave him courage, and God blessed him and his armor-bearer with a successful surprise attack that constituted a huge victory.  Faith=victory.
For those trained by experience in listening for God, our ears know His voice. 
Jonathan's listening for the Lord was so habitual that he could even do it on the move. 
None of this complacent waiting as some do, an excuse for inaction. 
God's voice was choreographing Jonathan's steps one by one.
But then after hearing of such a great victory, Jonathan's dad Saul, layers human ideas of a fast for all the soldiers as a quasi-divine command to finish Saul's fight. Instead of a personal fast as a spiritual practice for a personal fight, he applies it to everyone…including all the foot soldiers who would have benefitted from a little food. Saul issues it as a command, an oath, and a rash one at that. Saul decides to bring the ark of God along for the battle as a lucky charm to go along with his starving troops.
24 Now the Israelites were in distress that day, because Saul had bound the people under an oath, saying, "Cursed be anyone who eats food before evening comes, before I have avenged myself on my enemies!" So none of the troops tasted food. 
Except one problem: Jonathan had been faithfully following God, out fighting, and never heard that oath by dear old dad for all the people. He ate a little honey, not against God's law, only his father's troublesome oath.  
35 Then Saul built an altar to the LORD; it was the first time he had done this. 36 Saul said, "Let us go down and pursue the Philistines by night and plunder them till dawn, and let us not leave one of them alive." "Do whatever seems best to you," they replied. But the priest said, "Let us inquire of God here." 37 So Saul asked God, "Shall I go down and pursue the Philistines? Will you give them into Israel's hand?" But God did not answer him that day. (1 Samuel 14:17-45)
God did not answer him.  Saul was ready to rush headlong until the priest suggested checking in with God.  That's why God did not answer. 
Saul's heart wasn't in it for worship, and God is not obligated by our oaths and promises made in haste for our own pride and glory.  But God will answer those who seek Him as Jonathan did.  "Without faith it is impossible to please God, because anyone who comes to him must believe that he exists and that he rewards those who earnestly seek him." (Hebrews 11:6)
Let this be a lesson to us…that we should not leave inquiring of God to be a last resort, but to do so always as a matter of first importance.
Father, the battles we face might not be ones on a battlefield but rather struggles against evil, against discouragement, against hopelessness, against fear, against doubt, and against so many things that call us away from our faith in You.  But we know, Lord, that You are faithful.  We are thankful that You reward those earnestly seek You.  Might we seek You as a matter of first importance every day, throughout the day, so that we might look for Your activity in our lives and see You at work.  We appreciate that we cannot follow You and yet stay where we are in our comfortable places.  Give us boldness like Jonathan, instead of complacency like Saul.  Might we seek Your glory as Jonathan did, and not our own personal vendettas like Saul's.  We ask Lord that You'll be glorified in our actions, in our boldness, and that we would be willing to sacrifice all for the sake of Your Gospel … for the sake of Your Kingdom … and for the sake of Your Son Jesus Christ, our Lord and Savior and it's in His mighty Name we pray. Amen. 
===
If you're already signed up on my Home Page sidebar to receive posts, you'll get the 2021 Lent Devotionals automatically. Or you can "Like" Seminary Gal on Facebook and they'll be delivered to your Facebook news feed. If you haven't signed up, today is a great day to do so. Advent and Lenten devotionals remain among my most popular offerings. You don't want to miss this encounter with God to prepare your heart for Easter! Understanding that prior years' devotionals continue to minister, you may want to have access to a full series ahead of time: