Loneliness is pervasive in much of the modern world.  Ironically, the more technology that we have with social media, we may simultaneously have an abundance of real and virtual friendships and yet experience a profound loneliness in the midst of it all.
Do you ever feel like no one cares?  That you could drop off the planet and no one would notice?  Maybe you've felt like other people have tons of friends and activities that they're posting all over Facebook and Twitter…and no one ever invites you?  Perhaps you've been a good friend to others and they fail time and again to reciprocate?  It's like for them, friendship is a one-way street.
You feel forgotten.  Like you're nowhere to everybody.  You're all alone.  It happens.
Acts 7:9 "Because the patriarchs were jealous of Joseph, they sold him as a slave into Egypt. But God was with him 10 and rescued him from all his troubles."
Where are you, Joseph?  I'm nowhere.  Actually, I'm nowhere even here in prison, exactly where I've been for years.
For two long years after Joseph helped the Pharaoh's cupbearer, Joseph sat alone and forgotten.  But God was with him.  God knew the formation power of stillness.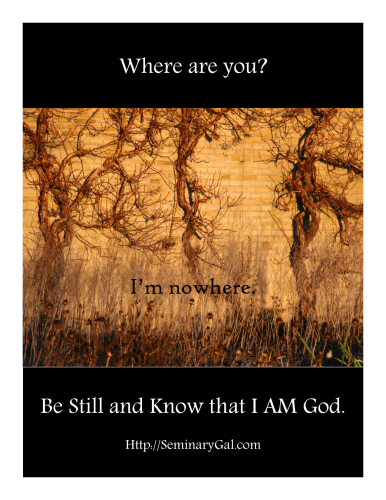 Be Still.  I have not forgotten you.  I know where the prisons are and how to reach you in them.
Be Still.  I am forming your character in the quietness of lonely times.  Your character is important to me, enough so that I don't want you to be distracted during this time of formation.
Be Still.  I know the sadness and the loneliness you feel, but know this: I AM with you.
Be Still and Know that I AM God.  I am faithful to everything I've promised.  I restore what is good by purification times.  The lonely times are when I'm removing any offenses that might stand between us.
Be Still and Know that I AM God.  Deuteronomy 31:6 "Be strong and courageous. Do not be afraid or terrified because of them, for the LORD your God goes with you; he will never leave you nor forsake you."  As it was with Moses and Joshua, I AM here with all those whose eyes are looking for Me, even from the nowhere places.
Questions for reflection:
Read

Isaiah 44:21 "Remember these things, O Jacob, for you are my servant, O Israel. I have made you, you are my servant; O Israel, I will not forget you. 22 I have swept away your offenses like a cloud, your sins like the morning mist. Return to me, for I have redeemed you." 23 Sing for joy, O heavens, for the LORD has done this; shout aloud, O earth beneath. Burst into song, you mountains, you forests and all your trees, for the LORD has redeemed Jacob, he displays his glory in Israel. 24 "This is what the LORD says– your Redeemer, who formed you in the womb: I am the LORD, who has made all things, who alone stretched out the heavens, who spread out the earth by myself, 25 who foils the signs of false prophets and makes fools of diviners, who overthrows the learning of the wise and turns it into nonsense, 26 who carries out the words of his servants and fulfills the predictions of his messengers, who says of Jerusalem, 'It shall be inhabited,' of the towns of Judah, 'They shall be built,' and of their ruins, 'I will restore them,' 27 who says to the watery deep, 'Be dry, and I will dry up your streams,' 28 who says of Cyrus, 'He is my shepherd and will accomplish all that I please; he will say of Jerusalem, "Let it be rebuilt," and of the temple, "Let its foundations be laid."' 

What does it mean to you that God tears down and restores?
What hope can we hold onto when we're feeling lonely?
How does loneliness purify where our hope resides?  Is it human relationship you desire or a relationship with God?