Genesis 42:1 When Jacob learned that there was grain in Egypt, he said to his sons, "Why do you just keep looking at each other?" 2 He continued, "I have heard that there is grain in Egypt. Go down there and buy some for us, so that we may live and not die." 3 Then ten of Joseph's brothers went down to buy grain from Egypt. 4 But Jacob did not send Benjamin, Joseph's brother, with the others, because he was afraid that harm might come to him. 5 So Israel's sons were among those who went to buy grain, for the famine was in the land of Canaan also. 6 Now Joseph was the governor of the land, the one who sold grain to all its people. So when Joseph's brothers arrived, they bowed down to him with their faces to the ground. 7 As soon as Joseph saw his brothers, he recognized them, but he pretended to be a stranger and spoke harshly to them. "Where do you come from?" he asked. "From the land of Canaan," they replied, "to buy food." 8 Although Joseph recognized his brothers, they did not recognize him. 9 Then he remembered his dreams about them…
Well, well, well.  A mighty interesting predicament you're in.  You're starving.  I have grain.  You're here on a mission because you're in want.  I'm here in charge of everything you need and are looking to gain from me.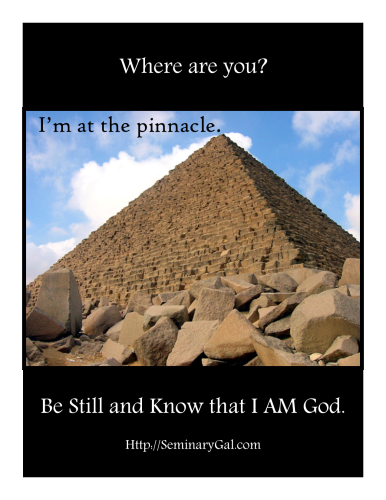 Where are you, Joseph?  I'm in a position of great power over my brothers…and with great power, period.  I'm at the pinnacle of success and among men, only Pharaoh is greater than I.
Had Joseph not spent plenty of time in prison, a chip may have remained on his shoulder.  But the loneliness and forgotten years of prison had been fruitful.  Tears and time had softened his heart, eroded his pride, and made him malleable in the hand of the God who never left him.  He was truly at the pinnacle of earthly success because he had power and wealth and wisdom, too.  He was wise enough to know the God who had been with him in the pit, who was with him in Potiphar's house, who was with him in prison, and who was the same God who put him at the pinnacle for a while.
Fame, success, power, wealth—all these things are ones the world treasures as signs of a great life.  One quick look at all the child stars who end up really mixed up, athletes who make awful and unlawful decisions and act as though they can't be touched, rock stars who overdose on drugs, as well as politicians who break laws they have written and face just punishment—all of this testifies to how success can really, truly ruin a person.
Or as Lord Acton once said, "Power tends to corrupt, and absolute power corrupts absolutely. Great men are almost always bad men."
Not Joseph.  He valued his relationship with God over all this power.  What poses a stumbling block to stillness in so many people's lives—success—was for Joseph the high point from which a life of faith can shine.  That pinnacle can be a place of stillness, but only if one meets God there and humbly remembers that God is still higher.
Be Still.  Value your relationship with Me above all else and you will be rewarded. 
Be Still.  I want for your faith to shine from the highest places. 
Be Still and Know that I AM God.  I raise up and I will keep you humble.  Trust in Me.   Matthew 11:29 "Take My yoke upon you, and learn from Me, for I am gentle and humble in heart; and you shall find rest for your souls."
Questions for reflection:
What successes have been your proudest achievements?  To whom did you give the credit?  What have these done to your relationship with God?
Read Paul's words. 

Philippians 4:11 "I am not saying this because I am in need, for I have learned to be content whatever the circumstances. 12 I know what it is to be in need, and I know what it is to have plenty. I have learned the secret of being content in any and every situation, whether well fed or hungry, whether living in plenty or in want. 13 I can do everything through him who gives me strength." 

How does his perspective show he understood stillness before God?
What are some positive steps you can take today to put achievement in perspective and be still at the pinnacle of success?