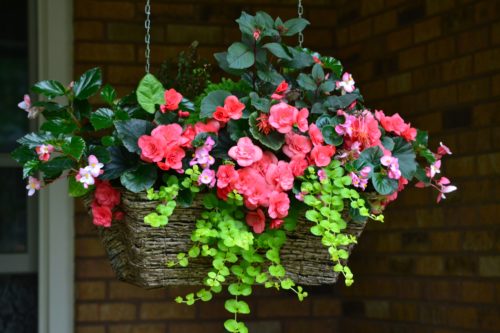 I often get compliments on the beautiful hanging baskets on my front porch.  They are large but proportional to the elliptical archway under which they hang.  They are not round, but squarish, important so the pair doesn't look like eyes staring at you.  Every year, I do something slightly different, but the result is always spectacular if I may quote friends and neighbors and not sound like I'm boasting.
Today, I'll share with you how it's done.
How to make beautiful hanging baskets: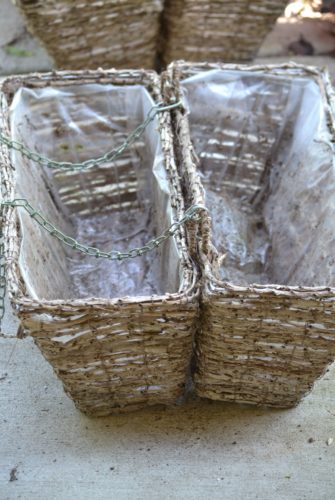 First, they are not hanging baskets at all.  They are pairs of window boxes with loops which have been placed back-to-back so they will hang evenly.
They are secured together with a chain link quick connector that you can buy at any home improvement store.  I use them so I can attach both baskets together along with a strand of chain link to hang the beautiful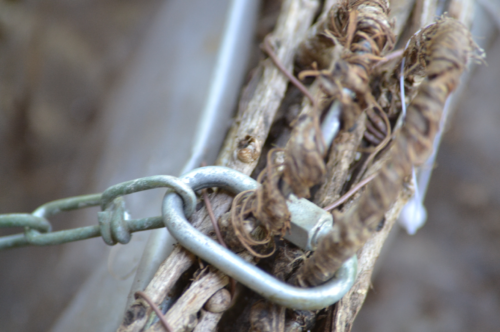 hanging baskets at their proper height.  When hanging, the quick link cinches the two baskets tightly to one another and leaves space for the strand to move freely so it doesn't become uneven.  (Here's a close-up of the link attachment.)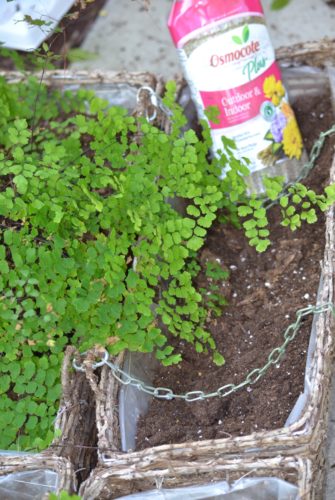 I fill them with potting mix which has been amended with a few water absorbing crystals and slow release fertilizer.  I use the water absorbing crystals because the window boxes are shallow, the plants will be numerous (in some cases moisture sensitive), and the location is under the eaves which will limit their receiving natural rainfall.  The gel, used in cosmetics, water treatment facilities, and disposable diapers, breaks down along plant roots and underground stems and by the end of the season, it will be decomposed having served its purpose.
Plant selection is important.  The ones in the backward facing window box will receive very little natural light unless they grow tall enough above the front plants.  Therefore, I summer some houseplants (maidenhair fern, Nephthytis, Pothos, and angel wing begonias) in the rear planting area.  I reserve the front planter for beauty and cascade.
Every year I do something slightly different.  This year I have the upright Fuschia 'Gartenmeister' with red tubular flowers and dark foliage, light pink angel wing and fibrous rooted begonias, Begonia 'Solenia Dark Pink', and a pop of the lime green creeping jenny.
The only thing left to do is to keep it watered and let yourself enjoy these beautiful hanging baskets for the rest of the season.  Watch and admire the butterflies and hummingbirds.  And watch out for any robins or house finches that might want to nest there since they have 2 broods each year.  And now you know my secret for having beautiful hanging baskets.  Enjoy!