What is the difference between stillness and drifting?
I was thinking about that when the pastor at the church I visit when I'm on holiday was preaching about making one's life "drift-proof." He spoke of reliable anchors of the family of God, the indwelling Holy Spirit, and the powerful written Word of God. Mentally, I checked, "Got that, got that, got that" and wondered quietly as my mind drifted,
Why do I not like how this feels? Shouldn't being anchored give only a sense of security and rest? Why does it seem like I'm just not making any progress? Why do I end up feeling restless, itching to get going?"
Have you ever felt that way? Nothing seems to be happening. You remind yourself that you're supposed to be resting, but then you're pondering the fine line between being anchored and simply being stuck.
You're anchored because even sailboats have an anchor in order for the crew to rest.
Don't get me wrong. I'm grateful for the time away from intensity. After Lent each year, I intentionally rest. It's particularly important when Lent follows Advent so quickly. I need to be filled again which I have learned only comes through rest. This time has been a desperately needed Sabbath yet a very hard rest because it feels like being stuck. It's been a long rest because God is making up for my not resting well, a quality Sabbath, by increasing the duration required.
My mind was called back from my drifting thoughts to the pastor's sermon and what an anchor does.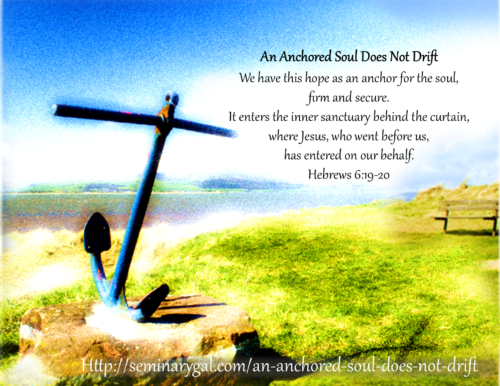 Hebrews 6:19 We have this hope as an anchor for the soul, firm and secure. It enters the inner sanctuary behind the curtain, 20 where Jesus, who went before us, has entered on our behalf.
The Anchor of Hope enters that inner sanctuary where Jesus performed His priestly work until…what did our high priest Jesus do?
Hebrews 8:1 The point of what we are saying is this: We do have such a high priest, who sat down at the right hand of the throne of the Majesty in heaven."
He sat down.
The work was done and now He's resting with an active rest.
Then it hit me: I'm supposed to feel "stuck" because keeping one firm and secure is what an anchor does. My hope in Christ and in His finished work enters the sanctuary while I'm physically resting and acknowledging this Simple Truth: An Anchored Soul Does Not Drift.