In 1966, the Beatles released a song entitled Yellow Submarine which was a rather successful song, and was later made into a movie/soundtrack by the same name.  In part the song's lyrics read: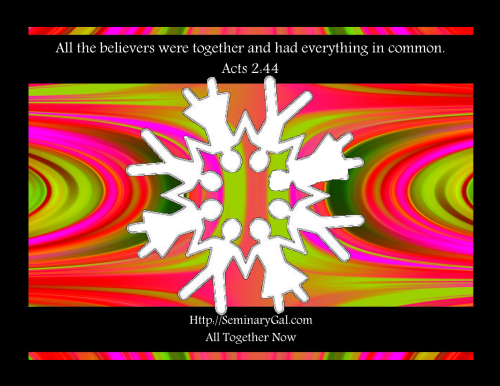 As we live a life of ease (life of ease)

 Every one of us has all we need

 (Every one of us has all we need)

 Sky of blue and sea of green

 (Sky of blue, sea of green)

 In our yellow submarine

 (In our yellow submarine, aha)

We all live in a yellow submarine,

 A yellow submarine, yellow submarine.

 We all live in a yellow submarine,

 A yellow submarine, yellow submarine.
* * *
It has been variously viewed as a sing-along for children with nonsense lyrics, but like another song from the Yellow Submarine film soundtrack, All Together Now, the lyrics have prompted social and political interpretations–ones that allow each person to read into it one's own ideas of the deeper hidden meaning.  After all, the Beatles wouldn't possibly be that nonsensical or prosaic.  Therefore, there must be hidden meaning and it's whatever you think it means because one thing's for sure: it can't be as simplistic as it sounds.
Some people treat this verse of Scripture that way:  Acts 2:44 All the believers were together and had everything in common.
Unlike popular lyrics of fantasy-bordering-psychedelic music, Scripture cannot mean whatever we want it to mean.  It means what God says it means.  And God is not advocating in Acts 2:44 that Christians adopt communism or socialism.  What God would have us to know is that our priorities–in the Risen Life, the Redeemed Life, the New Life that is ours from being "born again"—our priorities will be changed.  We will not value accumulation of material things above fellowship.  We will not value individualism above community.  We will no longer consider our own interests (which happens by nature) but instead look out for the welfare of others who are likewise made in the Image of God and reborn in the Image of Christ.
Questions for pondering:
Read

Philippians 2:1 If you have any encouragement from being united with Christ, if any comfort from his love, if any fellowship with the Spirit, if any tenderness and compassion, 2 then make my joy complete by being like-minded, having the same love, being one in spirit and purpose. 3 Do nothing out of selfish ambition or vain conceit, but in humility consider others better than yourselves. 4 Each of you should look not only to your own interests, but also to the interests of others. 5 Your attitude should be the same as that of Christ Jesus: 6 Who, being in very nature God, did not consider equality with God something to be grasped, 7 but made himself nothing, taking the very nature of a servant, being made in human likeness. 8 And being found in appearance as a man, he humbled himself and became obedient to death– even death on a cross! 9 Therefore God exalted him to the highest place and gave him the name that is above every name, 10 that at the name of Jesus every knee should bow, in heaven and on earth and under the earth, 11 and every tongue confess that Jesus Christ is Lord, to the glory of God the Father.

"  What areas can you see that point to looking out for the interests of others?
What priorities do you have that God might want to change?
What does Acts 2:44 mean with respect to sharing with others when our priorities have changed?   What should we do regarding the poor, the lonely, and the lost?  In what way is humility the key to being All Together Now?