Luke 1: 32 He will be great and will be called the Son of the Most High. The Lord God will give him the throne of his father David, 33 and he will reign over the house of Jacob forever; his kingdom will never end."
So far in our Advent devotionals series, we've seen two of the five Messianic references in these two verses.  Today, we'll look at the third:
The Lord God will give him the throne of his father David…(Luke 1: 32b)
Mary would have already been tracking with what the angel said.  The angel Gabriel was talking about the Messiah.  Yes, it was probably outside of her theological box that the Messiah would actually be the Son of God, but the idea of the throne of David would have been quite familiar to Mary.
One thing we can glean from Mary's song recorded in Luke 1:46-55 is that Mary was no theological lightweight.  She had a good grasp on Scripture and the promises of God.  Mary knew that she was a descendant of David, just as her betrothed Joseph knew that he was a descendant of David.    So when Mary heard that the Messiah would be given the throne of his father David, she wouldn't have thought that a person named David would be the biological father.  Joseph would be presumed to be Jesus' father, the child would be part of the Davidic dynasty, but this baby Jesus would be different.  He would be the Son of God.
She would have understood this to be a precise fulfillment of Messianic prophecy.
All of this dates back to the prophet Nathan who received a message for then King David.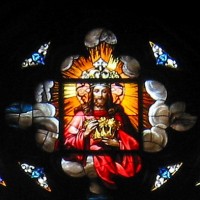 2 Samuel 7: 12 When your days are over and you rest with your fathers, I will raise up your offspring to succeed you, who will come from your own body, and I will establish his kingdom. 13 He is the one who will build a house for my Name, and I will establish the throne of his kingdom forever.
In the birth of Jesus Christ, this promise would reach ultimate fulfillment.  The throne of his kingdom lasts forever.  Even though nations rise and fall, the throne of David still belongs to the Messiah and no one can take it away.  Nations thump their chests of military might and world leaders proudly assert their power.  They devise battle plans and assemble chemical and biological weapons.  They have their hands poised to use the nuclear option.  But they will not have the last say.
In the fullness of time, the Second Advent—the Return of Christ—will happen. 
Jesus will not come again as a baby, but He will still be the Son of God. 
When He returns, He will not come to die because He already conquered death. 
He will come to judge and to rule forever on David's throne as King of Kings and Lord of Lords.