People were praying outside as Zechariah entered the vestibule to perform the same rites handed down through generations of priests since Aaron in the Tabernacle days. The legacy and traditions had been faithfully passed through the years: the burning of incense, twice daily, maintaining the lamps so incense would be a perpetual offering. A holy custom and perpetual, too.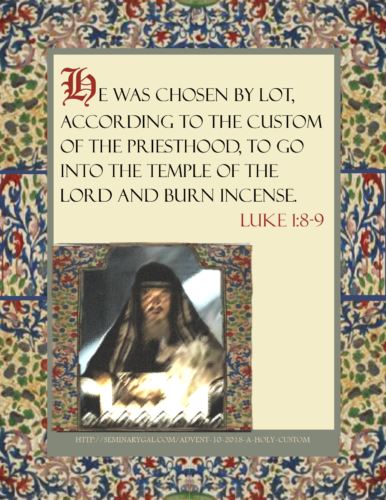 In Zechariah's' mind he recalled the words he knew so well.
Exodus 30:7 "Aaron must burn fragrant incense on the altar every morning when he tends the lamps. 8 He must burn incense again when he lights the lamps at twilight so incense will burn regularly before the LORD for the generations to come. 9 Do not offer on this altar any other incense or any burnt offering or grain offering, and do not pour a drink offering on it."
Once in the morning with morning prayers, once again at twilight and to maintain the lamps as commanded by Moses. Moreover, the law was clear, even so far as what to burn as incense.
Exodus 30:34 Then the LORD said to Moses, "Take fragrant spices–gum resin, onycha and galbanum–and pure frankincense, all in equal amounts, 35 and make a fragrant blend of incense, the work of a perfumer. It is to be salted and pure and sacred. 36 Grind some of it to powder and place it in front of the Testimony in the Tent of Meeting, where I will meet with you. It shall be most holy to you. 37 Do not make any incense with this formula for yourselves; consider it holy to the LORD."
He cherished the words of the Law of Moses and treasured up in his heart that what he was doing now was nothing other than a holy custom from ages past, offering holy incense, a most holy moment in the presence of Adonai, and certainly a day to remember forever.
***
His Story, Your Story:
Why do you think people were praying outside as Zechariah went inside?

How is a perpetual offering symbolic of our relationship to God?

In Revelation 5:8, we read that incense is symbolic of "the prayers of the saints." In what way are the prayers of those outside connected to the burning of incense as a perpetual offering?

Are there any changes you can make to your prayer life to make it more perpetual?

What other things can be a perpetual offering of worship? For insight, read Romans 12:1 "

Therefore, I urge you, brothers, in view of God's mercy, to offer your bodies as living sacrifices, holy and pleasing to God– this is your spiritual act of worship."
Self-Reflection topic: Perpetual Offering
Prayer: Father God, You are worthy of our continual worship. Help us to find ways to worship You even as we go about our daily lives, songs here, prayers there, encouragement of our fellow man wherever we can. Help us to bring glory to You by our actions, by our words, and by our choices. Help us to lift one another up in prayer, knowing that You already know the desires of our hearts and the needs of our friends better than we do. Hear our prayers for our nation, for our towns, for our families, for our churches, and for ourselves. As Your Word reminds us in Hebrews 10:25 "Let us encourage one another– and all the more as you see the Day approaching." As we watch and wait for Your return, let our worship be continual and let our custom be to seek holiness and give You praise. Amen.
===
By way of reminder, if you haven't signed up yet, you can receive these Storyteller devotional studies in your email throughout Advent 2018 by entering your email address on the SeminaryGal.com home page in the space provided in the sidebar. Or "Like" the SeminaryGal Facebook page to access them there. If you like these devotionals, I'd really appreciate your letting others know so I can continue to spread the Good News far and wide. Blessings to you, in Christ always, Barbara <><
===
Acknowledging inquiries about the entire season's devotionals for your study group's planning purposes, Seminary Gal's prior seasons' Advent devotionals can be accessed via the archives to the right and are as follows:
Last year's Advent Devotional Series (2017), Still Christmas, began December 3, 2017 and was the Advent complement to the Lenten series, Be Still and Know that I AM God.
The 2016 season devotionals were called "Timeless: The Message of Christmas for All Ages" and explored how the message of Christmas is timeless truth, for all ages of people, and for all ages at all times. Timeless hope, encouragement, grace, peace, and love as we looked into the Word, saw the face of our Lord Jesus, and experienced restoration in His presence. His goodness and His Gospel are truly Timeless. The 2016 devotionals began November 27, 2016.
The 2015 season devotionals were titled Incarnation and involved digging deep–and yes, I mean deep– in this important mystery of Christian theology. They began November 29, 2015.
Carol Me, Christmas! remains one of my most popular offerings and tells the Christmas story through our most beloved Christmas hymns and carols. You can access all of the numbered devotionals from 2014 via the archives. They began November 30, 2014.
The 2013 series was Emmanuel: When LOVE Showed Up in Person and examined the Prologue to the Gospel of John. It began December 1, 2013.
The 2012 series focused on Expecting the Unexpected…the unexpected, unlikely, and uniquely divine qualities of God's perfect plan outlined in Luke's account of the Christmas story. It began December 1, 2012.