In the Life of Pi (the movie we've been using for our 40 days of hard questions "Why?"), the young boy Pi asks the priest, "Why would a god do that? Why would he send his own son to suffer for the sins of ordinary people?"
For an evangelist or a pastor, this is the dream opportunity: someone asking for the Gospel dump truck to be unloaded in one major download!
That's when the priest in the movie comes up short and only answers with that Sunday school answer "All you need to know is that He loves you". In real life, Catholic priests do better than that. But the movie portrays a golden opportunity frustratingly answered with half-reply which explains why I prefer to get my theology from the Good Book…and not from the silver screen.
Where is all the evidence for why we need a Savior?
Well, start with the holiness of God.

Then there's the sinfulness and rebellion of mankind (but often glorified as freedom and pleasure in movies and TV).

God's justified wrath against sin (obviously not something Hollywood wants to recall in all the carnage it likes to display).

And then there's the outcome of life left to our own devices: De-Vices are what keep us apart from heaven and God's presence and result in that separation called Hell (something Hollywood also doesn't like to talk about much).
Even in the wake of the school shooting at Marjory Stoneman Douglas High School, there is an object lesson–a vivid reminder of 17 young lives lost because we have a culture of sin and death nurtured daily in our media, an evil culture that bore fruit in the life of the killer. Romans 5:8 reminds us of life and death and our need for a Savior, no matter what our age is.
But God demonstrates his own love for us in this: While we were still sinners, Christ died for us. (Romans 5:8)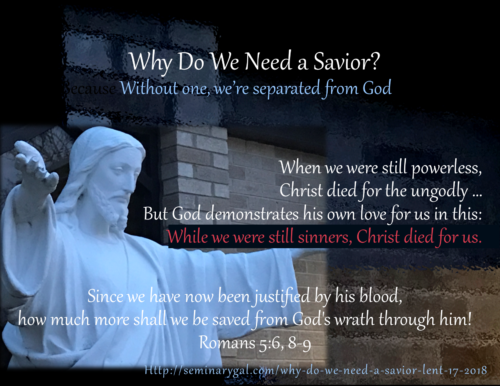 Too much to dream that the Catholic priest in the Life of Pi would state his view as clearly as the Apostle Paul: Romans 1:16 I am not ashamed of the gospel, because it is the power of God for the salvation of everyone who believes: first for the Jew, then for the Gentile. 17 For in the gospel a righteousness from God is revealed, a righteousness that is by faith from first to last, just as it is written: "The righteous will live by faith."
For further thought:
Read Romans 1:16-25 and identify the ways Hollywood—teaching by way of entertainment—is at odds with Paul's proclamation.
Read Romans 5 which answers Pi's question clearly and without sugar-coating.

Will any amount of saying "I'm sorry" restore the 17 lives lost in Parkland, FL?

In what ways does Jesus' sacrifice make hope possible–that even though those 17 cannot be brought back to life upon this earth, there is hope they live eternally?
Join me tomorrow for one of those topics that pastors don't talk about often: "Why Does God Like Blood So Much? It's a Turn-off."
==
For Lent 2018, we'll explore the questions of Pi and Chi (the Greek letter beginning the word Christos, which means Christ, Messiah, the Anointed One). We'll ask and answer the question "Why?" as we discover the uniqueness of Jesus Christ. Join me for the 40 days of Lent which began February 14, 2018 by liking Seminary Gal on Facebook or having these devotionals sent to your email box which you can do via the sign-up on my Home page. Thank you for blessing me with this opportunity to study together the Word of God.
===
Acknowledging that former years' devotional series remain popular: