Do you ever feel like Charlie Brown, not feeling happy, and wondering if anyone can tell you what Christmas is all about? It's not easy to keep perspective in a culture that assaults the holy with the secular at every turn. Isaiah says that our response to the light dawning ought to be joy. Not just any joy, but a Timeless joy that's rooted and grounded in victory. It was prophesied in Isaiah 9:3 You have enlarged the nation and increased their joy; they rejoice before you as people rejoice at the harvest, as men rejoice when dividing the plunder. 4 For as in the day of Midian's defeat, you have shattered the yoke that burdens them, the bar across their shoulders, the rod of their oppressor. 5 Every warrior's boot used in battle and every garment rolled in blood will be destined for burning, will be fuel for the fire. 6 For to us a child is born, to us a son is given, and the government will be on his shoulders. And he will be called Wonderful Counselor, Mighty God, Everlasting Father, Prince of Peace.
There is tremendous-even Timeless- joy in victory but there's a deep, deep sadness at victory denied…or fear that it will be. Like the end of the story will be nothing but a bad ending. That we'll be forced to live in defeat forever. That mortality and death will have the final say! We can resonate with the Apostle John whose end-times vision is recorded in Revelation 5:1 Then I saw in the right hand of him who sat on the throne a scroll with writing on both sides and sealed with seven seals. 2 And I saw a mighty angel proclaiming in a loud voice, "Who is worthy to break the seals and open the scroll?" 3 But no one in heaven or on earth or under the earth could open the scroll or even look inside it. 4 I wept and wept because no one was found who was worthy to open the scroll or look inside.
J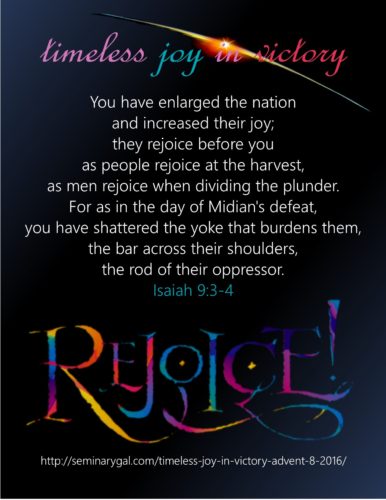 ohn wasn't being a whiner or a poor sport. In some regards it was more like PTSD (post-traumatic stress disorder) in which the battle had been fought, the hope had been real all these years! But the victory was nowhere to be seen. Everywhere John looked, it was victory denied. Death and oppression would rule the day… and I guess, that was that. No hope for the consolation of Israel. No hope for restoration of people to their God. It's no surprise that he weeps.
Revelation 5:5 Then one of the elders said to me, "Do not weep! See, the Lion of the tribe of Judah, the Root of David, has triumphed. He is able to open the scroll and its seven seals."
Here is the Timeless Joy in this victory. The Christ Child whose birth we celebrate at Christmas, the Son given, the Wonderful Counselor and Prince of Peace from Isaiah 9, He is the Lion and the Root and the Lamb whose victory over death gives us Timeless Joy. Indeed, He is the consolation of Israel and the Savior of those who will receive Him. All this joy became real in a baby born at Christmas! Rejoice!
===
Join me for Advent 2016 Devotionals called Timeless: the Message of Christmas for All Ages beginning November 27, 2106. Timeless hope, encouragement, grace, peace, and love will be ours as we look into the Word, see the face of our Lord Jesus, and experience restoration in His presence. His goodness and His Gospel are truly Timeless.
Advent began November 27, 2016. If you're already signed up on my Home Page sidebar to receive posts, you'll get the Advent devotionals automatically. If you haven't signed up, today is a great day to do so. Advent and Lenten devotionals remain among my most popular offerings. You don't want to miss this great way to prepare your heart for the true meaning of Christmas!