Do you know the powerful working of God's grace in your life? Paul did.
But by the grace of God I am what I am, and his grace to me was not without effect. No, I worked harder than all of them– yet not I, but the grace of God that was with me. (1 Corinthians 15: 10)
I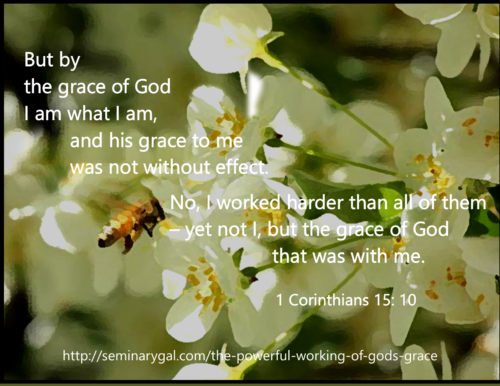 know it too. It doesn't mean there isn't residual pain or stubborn doubt or opportunity to feel angry or be discouraged. The joy is that God's grace turns these wounds into scar tissue allowing us to remember the way God's grace heals, it forgives, and those stigmata (scars) on Jesus' hands and feet force us to recall that God's mercy came at a very heavy, painful cost.
Remember my story from last week about AllExperts and the way 18 years of my life's work simply vanished from the physical record? Today's Wall Street Journal had a story about About.com explaining a bit more about why it vanished. Did I hear it from the authorities to whom I sent email inquiries? Noooo. I had to get it from a tech article in a newspaper. The website has been in decline and the Chief Executive Neil Vogel is quoted as saying, "About.com is a funny thing. Everyone knows what it is, but it doesn't mean anything to anyone."
Now perhaps it means even less. And why? Would the grace of God be in it anymore if His Word that brought Him glory was banished?
It's kind of like God's modern nod back to the glory of God departing the temple (Ezekiel 10). So About.com is changing its name. Perhaps Ichabod would have been a more fitting choice (1 Samuel 4:21-22).
No presence, no grace, no glory.
It was launched in days prior to Google and in 2000, it was valued at $690 million, 5 years later it was bought by the New York Times for $410 million, and was sold again in 2012 for $300 million. Not exactly a winning trajectory. And why? Because the grace of God that made sites like AllExperts successful in answering people's Bible questions (sometimes sincere, sometimes not) was lost a bit when About.com threw us into their den of Wiccans in 2000 and marginalized us again by selling us to the New York Times (sarcasm alert) that notable bastion of God-fearing evangelists.
Yet, some of us worked hard anyway. Was it my success there? Nope. It was God working on me, and with me and in me there until the very end. And the powerful work of God continues. Now I have a personal object lesson on why it's important to store up treasures in heaven. My investment since 1999 as a volunteer had been in people and God's grace was not without effect. My investment timeline has been for eternity…a beautiful powerful hiddenness that is the essence of faith, and a reminder that God sees things we don't.
Thank you to all of you who resonated with the loss I've known this week. But let's not leave it with a loss.
What does it mean to be Resurrected? God's powerful grace is still at work in the seeds we plant and leave behind. By faith, we know His grace is not without effect.
Our series on 1 Corinthians 15 entitled What It Means to Be Resurrected can be accessed fully from the archives beginning April 2017.