Resurgent black men take a real risk stepping out of stereotypes. Just ask NFL Hall of Famer Jim Brown, whose Pro Football Hall of Fame Bio states,
Jim Brown was a superb craftsman whose primary job was to run with the football for the Cleveland Browns. For nine seasons, he did it better than any player before him. When he retired at the age of 30 at the peak of his career, he left behind a record book clogged with Jim Brown notations.
Brown was more than just a one-of-a-kind running back. He caught passes, returned kickoffs, and even threw three touchdown passes. His 12,312 rushing yards and 15,459 combined net yards put him in a then-class by himself…
In the summer of 1966, Jim stunned the sports world with his announcement that he was retiring. Fans still ponder what heights he might have reached had he stayed on the firing line a few more seasons.
He actually left and embraced a different kind of firing line: helping inner-city kids, gangbangers, ex-cons, and inmates. He retired to be a resurgent man and role model through his Amer-I-Can program.
After meeting with then President-elect Donald Trump, Brown has faced a new kind of firing line. According to Warner Todd Huston, there are critics like sportswriter David Steele ready to erase an entire legacy. Here's what Steele wants to erase like a whiteboard.
But his founding of the Amer-I-Can Foundation has done the most good, after he spent years trying to mitigate the inner-city gang culture.
"I was doing economic development for minorities. I was getting black folks to use their dollars to help each other. I looked up and saw black men killing each other over red and blue. Until we did something about that, there was no use for economic development," Brown recently told the New York Daily News.
Since its founding nearly 25 years ago, Amer-I-Can has improved the lives of gang members, prison inmates, ex-cons, at-risk kids and thousands of other people in more than a dozen states across the nation.
The heart of Amer-I-Can is a 15-lesson course Brown created which helps train young blacks to gain control of their emotions in order to lead useful, productive lives. The program he developed helps inner-city youth learn to keep a job, raise a family, and go back to school.
Why did Brown throw it all away? Why did he let himself get hit hard and fumble big time?
Maybe that's just what his critics want you to think about this amazing black man. There's no fumble here with him. Yeah, he's full of flaws, but aren't we all? Maybe that's what President Trump sees–a remarkable role model not in spite of his flaws, but because of them. He's an overcomer who thinks for himself.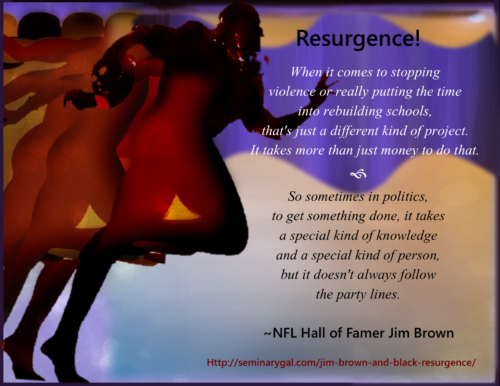 His quotes about his role in black America are numerous. It's obviously very important to him to help other people, to pay it forward. Consider these:
What I want to do is play roles as a black man, instead of playing black man's roles. You know?
The social issues outside of football are not as defined as they were earlier, when integration took place and certain rights were legislated. The Civil Rights movement is over. Individuals can buy homes wherever they want, travel first class wherever they want, eat wherever they want.
The need to be cared for is the base of everything. In the penitentiaries, you won't hear gangbangers and criminals say, 'No, I don't want to be cared for by nobody.' When you care about them, they'll open up to you.
I run a program called Amer-I-Can. We've taught in prisons, schools, juvenile facilities and we teach in up to you. the community. We have the greatest record from the standpoint of dealing with grade point averages, disciplinary action and attendance in schools.
If you help disabled children, it's very appealing. If you help kids with cancer, those are the things you get credit for and those things are beautiful. But when it comes to stopping violence or really putting the time into rebuilding schools, that's just a different kind of project. It takes more than just money to do that.
So sometimes in politics, to get something done, it takes a special kind of knowledge and a special kind of person, but it doesn't always follow the party lines.
Maybe Donald Trump wanted to meet with Jim Brown because he sees that Brown has a special kind of knowledge as a special kind of person, one willing to put aside politics when there's a job to be done by resurgent men. Brown is not perfect, but he's a man with a resurgent heart, willing to work hard and serve others. He got a special kind of attitude and a vision, daring to imagine a different life for young men in the black community.
Matthew 25: 37 "Then the righteous will answer [the Lord], 'Lord, when did we see you hungry and feed you, or thirsty and give you something to drink? 38 When did we see you a stranger and invite you in, or needing clothes and clothe you? 39 When did we see you sick or in prison and go to visit you?' 40 "The King will reply, 'I tell you the truth, whatever you did for one of the least of these brothers of mine, you did for me."
===
The full Resurgence Series was devoted to highlighting the extraordinary efforts of black men to elevate the black community and included:
http://seminarygal.com/steve-harvey-and-black-manhoods-resurgence/

http://seminarygal.com/steve-harvey-resurgence-and-faith/

http://seminarygal.com/supreme-court-justice-clarence-thomas-and-resurgence/

http://seminarygal.com/benjamin-carson-on-success-and-resurgence/

http://seminarygal.com/jim-brown-and-black-resurgence/

http://seminarygal.com/shelby-steele-resurgence-and-political-correctness/

http://seminarygal.com/walter-williams-and-the-resurgent-solution/

http://seminarygal.com/resurgent-man-jason-riley-analyzes-the-problem/

http://seminarygal.com/resurgent-man-benjamin-watson-values-life/

http://seminarygal.com/politicized-church-a-two-word-problem/

http://seminarygal.com/resurgent-solutions-of-guiding-and-mentoring/