Today, I'd like to begin unveiling what I've been working so hard on during the past few months, a charity garden walk: The March to November Garden.  That's how I've billed mine.  It might not sound impressive to those of you who live in areas of the United States or the world where growing seasons are always happening.  But for those of us in Chicagoland, a March to November Garden is what keeps us hopeful as we endure winters that seem to last 7 months of the year with a few weeks of spring or fall and then what feels like a humid furnace the rest of the year.
Many people who sign up for garden walks simply throw in the old gardening gloves and hire landscaping crews to make their yards beautiful.  But I have been doing it all myself.  My March to November Garden has been thoroughly Seminary Gal from design and planting to everything.  Yes, including weeding.
After all, my garden is outside of Eden where weeds grow more easily than flowers.  The weather never cooperates, freezing some, burning others, and those that survive the temperature extremes get water tortured which is always too much for most plants to endure.  Too little water can be resolved with a hose and plants often revive, but too much is simply too much.  They give up the ghost instead of revealing nature's top secrets.
So here is a sampling of my list of perennials (Annuals–letter A– lasting A year and Perennials beginning with P which stands for Persisting in Perpetuity).  And yes, trees and shrubs live as perennials even though they're considered woody rather than herbaceous.  This list also provides a clue as to what my March to November Garden looks like…or should like… if the bunnies and deer and rain-inducing fungus and bacterial stuff don't get the better of me.  But outside of Eden, every year it's something.
I'm starting my list with February because some years, we are overachievers.  But I didn't want to brag and lose any credibility as Seminary Gal.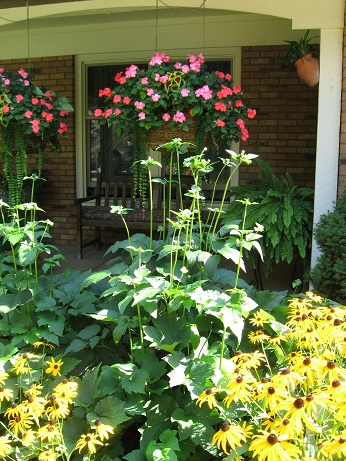 February/March: snow drops, winter aconite, Lenten rose, snow crocus
March/April: redbud, serviceberry, daffodils, early tulips, hyacinths, primroses, trillium, Scilla, bleeding heart
April/May: Spiraea, columbine, shooting star, trillium, Solomon seal, Geum, Ajuga, grape hyacinth, Viburnum, lilac, iris, Baptisia, Allium, midseason-late tulips, tree peony, sweet woodruff, wood violets, bluebells
May/June: mockorange, knockout roses, peony, Allium, Clematis, lily of the valley, wild geranium, Lamium, cranesbill geranium, forget-me-not, catmint
June/July: roses, hydrangeas, daylilies, coneflower, black-eyed Susan, cardinal flower, Sedum, lamb's ear, lilies, bee balm, Penstemon
July/August: roses, hydrangeas, daylilies, coneflower, black-eyed Susan, cardinal flower, butterfly weed, Sedum
August/September: gooseneck loosestrife, Clematis, turtlehead, Joe Pye weed, roses, hydrangeas, daylilies, coneflower, black-eyed Susan, Sedum
September/October: Japanese Anemone, Sedum, turtlehead, monkshood, fountain grass, phlox, Chrysanthemum
October/November: Japanese Anemone, Sedum, fountain grass, Chrysanthemum 
Into winter, I have things that are beautiful to behold…the lovely Royal Frost Birch, the red and yellow twig dogwood, and the pretty cinnamon colored peeling bark of Acer griseum (paperbark maple).  But by the time November rolls around and beckons winter to blanket my yard with snow and ice, I'm pressing my nose against the cold glass windows, looking out over snow and deer tracks, and wondering how long until spring?  It's more than March to November in actuality.  It's a year-round garden outside even if my main physical gardening activity comes indoors to make the long winters a little more bearable.
Perennials are like a fireworks display–each flower displays its glory in its season, but then fades as its time in the spotlight ends.  Because of gaps in that display, I also have annuals in my garden, but that's for another post.
Ecclesiastes 3:1 There is a time for everything, and a season for every activity under heaven