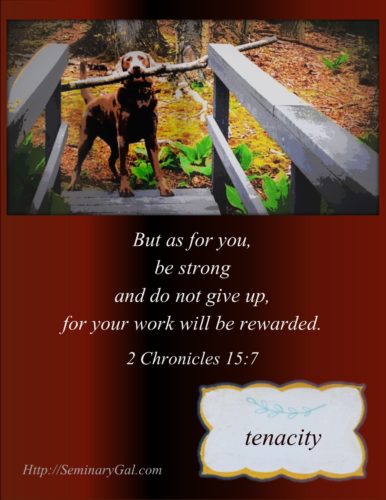 There's a common tale about pit bulls, that they have special jaws that grab and lock their prey. In truth their jaws are not different in structure at all from any other dog. It's the pit bull's personality where the grab and lock occurs. It's a hard-wired tenacity that is part of the breed.
Tenacity may not be hard-wired in Christians, but it is a Tiny Virtue when tenacity meets up with mettle—that moral courage–of someone who grips God and will not let go.
Tenacity alone is not virtuous at all. Directed toward the immoral, it becomes the purest of evil. Directed toward self, it becomes stubbornness. The only way it's virtuous is when it involves gripping God and His truth….and refusing to let go. Even when the path forward seems impossible.
Daniel and his friends Shadrach, Meshach and Abednego knew what it was like to grip God with tenacity and never let go.
Daniel 3: 16 "Shadrach, Meshach and Abednego replied to the king, "O Nebuchadnezzar, we do not need to defend ourselves before you in this matter. 17 If we are thrown into the blazing furnace, the God we serve is able to save us from it, and he will rescue us from your hand, O king. 18 But even if he does not, we want you to know, O king, that we will not serve your gods or worship the image of gold you have set up."
In spite of the punishments of a fiery furnace (Daniel 3:1-30) or the mouth of the lion for Daniel (Daniel 6:5-27), there was a tenacity of faith in God.
Ponder today: Is tenacity something you have as part of your Christian personality or do you need to develop some more?
 But as for you, be strong and do not give up, for your work will be rewarded. (2 Chronicles 15:7)
Bible characters of the day: Daniel, Shadrach, Meshach,and Abednego