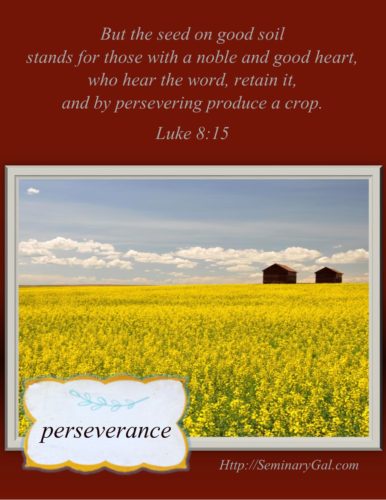 Nobody likes a quitter. How often do we hear stuff like that? Perseverance is more than just not quitting. It's more than just enduring something which can be sedentary and require no effort of the will. There's an unmistakable action associated with perseverance. It's a choice of the will to keep on, keepin' on…even when it doesn't appear to be doing any good. Pressing on. Pressing into.
Perseverance is a Tiny Virtue for Exemplary Christian Living because it's often far easier to just throw up one's hands and say,
"Well, it must not be God's will because it's not happening."
I was having a conversation last week with a pastor about how much self-promotion one should really engage in … if one is to act Christianly. I've been pressing on for over a decade on something and it gets pretty discouraging, frankly.
I ask myself many questions to try to understand the difference between perseverance and never giving up, especially when it's time to move on:
What is my responsibility for making opportunities happen versus responding by faith to ones He brings?
At what point do we continue to knock and fight and press because it brings glory to God?
Or conversely, at what point do we submit to end our stubborn efforts because God is moving us on and wants us to give it up already?
The truth is I still don't have the answers. Maybe God doesn't want me to have answers but to develop perseverance in seeking Him.
Jesus tells a great parable about this in Luke 18:1-8:
1 Then Jesus told his disciples a parable to show them that they should always pray and not give up. 2 He said: "In a certain town there was a judge who neither feared God nor cared about men. 3 And there was a widow in that town who kept coming to him with the plea, 'Grant me justice against my adversary.' 4 "For some time he refused. But finally he said to himself, 'Even though I don't fear God or care about men, 5 yet because this widow keeps bothering me, I will see that she gets justice, so that she won't eventually wear me out with her coming!'" 6 And the Lord said, "Listen to what the unjust judge says. 7 And will not God bring about justice for his chosen ones, who cry out to him day and night? Will he keep putting them off? 8 I tell you, he will see that they get justice, and quickly. However, when the Son of Man comes, will he find faith on the earth?"
Do you see the connection between perseverance and faith? Between seeking and receiving answers to prayer?
Luke 8:15 But the seed on good soil stands for those with a noble and good heart, who hear the word, retain it, and by persevering produce a crop.
Ponder today: how do I display my faith through perseverance?
Bible "characters" of the day: the widow and the unjust judge