The Pharisees couldn't relate to shepherds and sheep, but they could understand money. Yet, they failed to acknowledge how it applied to them since they didn't see themselves as doing anything sinful. Therefore, Jesus turned to a parable which would be unmistakable in meaning to them.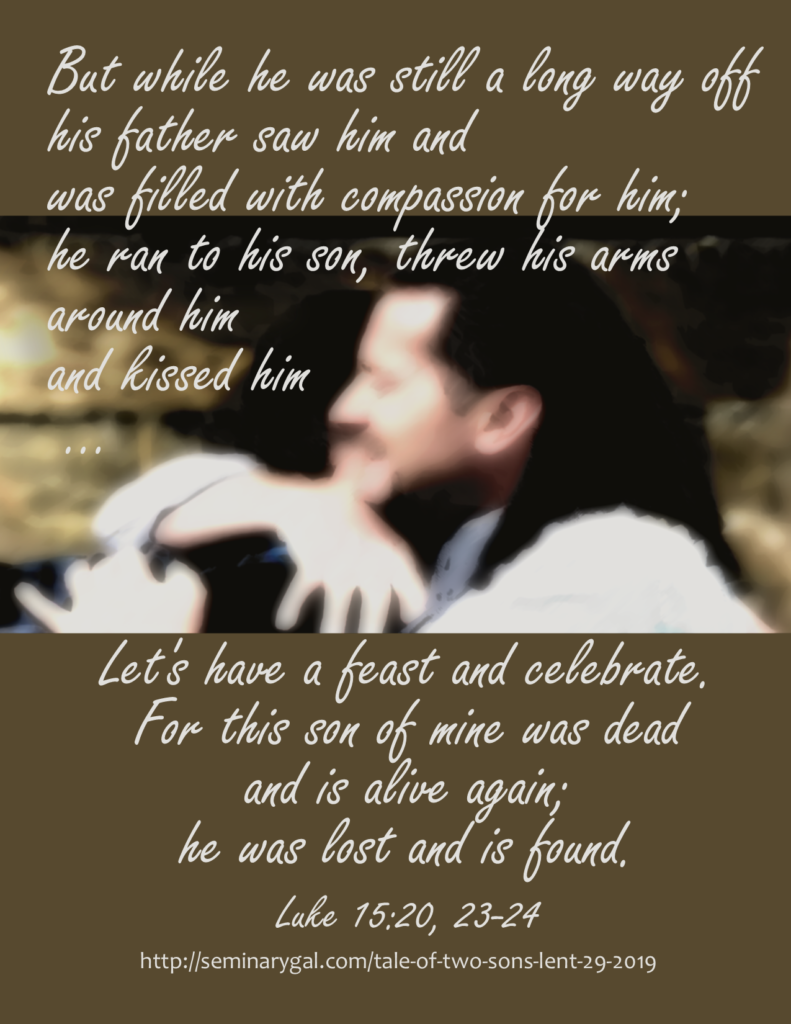 Luke 15:11 Jesus continued: "There was a man who had two sons. 12 The younger one said to his father, 'Father, give me my share of the estate.' So he divided his property between them. 13 "Not long after that, the younger son got together all he had, set off for a distant country and there squandered his wealth in wild living. 14 After he had spent everything, there was a severe famine in that whole country, and he began to be in need. 15 So he went and hired himself out to a citizen of that country, who sent him to his fields to feed pigs. 16 He longed to fill his stomach with the pods that the pigs were eating, but no one gave him anything. 17 "When he came to his senses, he said, 'How many of my father's hired servants have food to spare, and here I am starving to death! 18 I will set out and go back to my father and say to him: Father, I have sinned against heaven and against you. 19 I am no longer worthy to be called your son; make me like one of your hired servants.' 20 So he got up and went to his father. "But while he was still a long way off, his father saw him and was filled with compassion for him; he ran to his son, threw his arms around him and kissed him. 21 "The son said to him, 'Father, I have sinned against heaven and against you. I am no longer worthy to be called your son.' 22 "But the father said to his servants, 'Quick! Bring the best robe and put it on him. Put a ring on his finger and sandals on his feet. 23 Bring the fattened calf and kill it. Let's have a feast and celebrate. 24 For this son of mine was dead and is alive again; he was lost and is found.' So they began to celebrate. 25 "Meanwhile, the older son was in the field. When he came near the house, he heard music and dancing. 26 So he called one of the servants and asked him what was going on. 27 'Your brother has come,' he replied, 'and your father has killed the fattened calf because he has him back safe and sound.' 28 "The older brother became angry and refused to go in. So his father went out and pleaded with him. 29 But he answered his father, 'Look! All these years I've been slaving for you and never disobeyed your orders. Yet you never gave me even a young goat so I could celebrate with my friends. 30 But when this son of yours who has squandered your property with prostitutes comes home, you kill the fattened calf for him!' 31 "'My son,' the father said, 'you are always with me, and everything I have is yours. 32 But we had to celebrate and be glad, because this brother of yours was dead and is alive again; he was lost and is found.'"
Think about it:
Which son obeyed everything? How might that have contributed to his feeling like he earned his righteousness but only fostered resentment of the other son?
Which one was "the sinner"? How did the father (who represents God) treat him?
The Pharisees with their conspicuous obedience must have felt like the obedient son. What was really bothering the Pharisees about Jesus' teaching about God's love on the lookout for sinners?
Jesus spoke of the father keeping watch for the lost son and celebrating when he was found. Why might the Pharisees have resented Jesus given His lack of credentials?
What about human pride and resentment are offensive to God?
Thank You, God, for Your Law and Your grace.  We can resonate with Your servant, the Apostle Paul who wrote, "For in my inner being I delight in God's law; but I see another law at work in me, waging war against the law of my mind and making me a prisoner of the law of sin at work within me. What a wretched man I am! Who will rescue me from this body that is subject to death? Thanks be to God, who delivers me through Jesus Christ our Lord!" (Romans 7:22-25) We want to love and serve You but we know that apart from Your Holy Spirit's working, we fail time and again to measure up. For Your forgiveness, we praise You and thank You, Lord.  Amen.
If you're already signed up on my Home Page sidebar to receive posts, you'll get the 2019 Lent Devotionals automatically. Or you can "Like" Seminary Gal on Facebook and they'll be delivered to your Facebook news feed. If you haven't signed up, today is a great day to do so. Advent and Lenten devotionals remain among my most popular offerings. You don't want to miss this great look at the Easter story to prepare your heart for Easter! Understanding that prior years' devotionals remain popular,