Do you ever feel like life has passed you by?  Where are you? At the winter of your life with more days behind you than ahead of you?  Or perhaps exhausted from the Christian journey and feeling completely spent?  Do you feel like you're old and probably of no use anymore?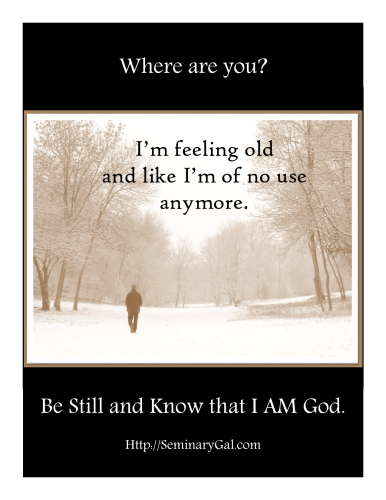 Sometimes, these feelings are from a lifetime of struggle, but at other times they can resemble an excuse.  I remember back when I was in a Garden Club, the older ladies encouraged the younger women to do all the work because they felt it was part of the club's seasonal cycle.  The older ladies had paid their dues when they were younger and did all the work back then.  Now it was someone else's turn.  The older ladies felt too old to be on the field, preferring to let the parade go on and just watch from the stands.
Abraham and Sarah might have felt that way.  Too old to have kids.  Their lifetime had been spent childless and they'd come to accept that the parade has passed them by.  So when God tells them their lives still have purpose, they were surprised. 
Feelings of uselessness and resignation are enemies of stillness.  Excuses are what we sometimes offer in order to not feel so bad about giving in to these enemies.  You can lay these feelings down at the Cross of the One who calls you every moment to a life of useful service and purpose.
Romans 4:16 Therefore, the promise comes by faith, so that it may be by grace and may be guaranteed to all Abraham's offspring– not only to those who are of the law but also to those who are of the faith of Abraham. He is the father of us all. 17 As it is written: "I have made you a father of many nations." He is our father in the sight of God, in whom he believed– the God who gives life to the dead and calls things that are not as though they were. 18 Against all hope, Abraham in hope believed and so became the father of many nations, just as it had been said to him, "So shall your offspring be." 19 Without weakening in his faith, he faced the fact that his body was as good as dead– since he was about a hundred years old– and that Sarah's womb was also dead. 20 Yet he did not waver through unbelief regarding the promise of God, but was strengthened in his faith and gave glory to God, 21 being fully persuaded that God had power to do what he had promised.
Are you persuaded in that way? 
Like Abraham, are you fully persuaded that God has the power to do His will? 
Be Still.  Listen in hope to hear what I want to do in your life.  I'm supplying your ongoing breath for a reason.
Be Still.  Purpose comes from Me and is not a function of your age or natural abilities.  Some things are done best in the stillness of the winter of your life.
Be Still and Know that I AM God.  I give life to the dead and call things that are not as though they are.
Be Still and Know that I AM God.  Believe that I have the power to do anything I want in your life.  I'm looking for your continued willingness.
Questions for reflection:
How might getting older become an excuse we use to keep us from remaining active in Christian service?
When we feel like the parade has passed us by, what does that say about us and our view of God?
What are some things that older Christians can do that younger Christians with families and fulltime employment might find more difficult to do?
"Older Christians can find themselves demanding to be served by the church (with their favorite music and activities) because they feel like they've paid their dues all these years.  They use their money and time to lobby churches to satisfy their preferences at the expense of reaching younger people."  Do you agree or disagree with this statement?  Why?  What does your answer possibly say about views of Christian service?