It's Saturday—the Sabbath day—the day between Jesus' death on the Cross and the empty tomb sealed with a rock.  Jesus is in the grave and the disciples, once scattered having deserted Jesus, are left on this Sabbath with many unanswered questions.
How did they observe the Sabbath in light of what had just happened?  The women who had watched where Jesus' body was laid and were preparing to anoint Jesus' body decided to rest.  Luke 23:56 Then they went home and prepared spices and perfumes. But they rested on the Sabbath in obedience to the commandment.
Judas didn't find any rest on the Sabbath.  He was tormented by what he had done.  Oh, he tried to make it right by returning the blood money to the priests.  They wouldn't take it back so Judas went to work at getting rid of it.  Then, Judas went out and committed suicide.  Matthew 27:5 So Judas threw the money into the temple and left. Then he went away and hanged himself.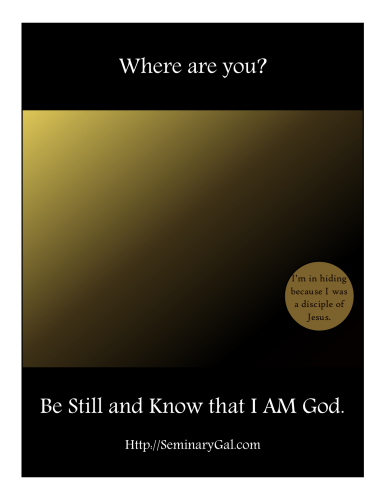 Where were the rest of the disciples?  Scripture doesn't say specifically where they were that day.  They were without their leader and teacher Jesus.  But by the evening of tomorrow, Resurrection Day, we read this:
John 20:19 On the evening of that first day of the week, when the disciples were together, with the doors locked for fear of the Jews, Jesus came and stood among them and said, "Peace be with you!"
So on this Sabbath day, the eleven remaining disciples had gone underground, either together or in individual hiding places before regrouping on Resurrection Sunday.  They were afraid that the same thing was going to happen to them that had just happened to Jesus.
Be Still in the quiet.  Take a Sabbath and remember everything I told you.  I said this would happen, remember?
Be Still in the hurricane of doubt and confusion. Remember that I calm storms.  Just Be Still and believe.
Be Still and Know that I AM God.  Open your eyes.  I'm no mere man who died on the Cross.  Mark 10:45 For even the Son of Man did not come to be served, but to serve, and to give his life as a ransom for many."
Be Still and Know that I AM God.  I AM the Resurrection and the Life.
Questions for reflection:
Read

Mark 9:31 "[Jesus] was teaching his disciples. He said to them, "The Son of Man is going to be betrayed into the hands of men. They will kill him, and after three days he will rise." 32 But they did not understand what he meant and were afraid to ask him about it." 

What about our not understanding things can make us afraid?  Were they afraid of looking foolish in front of each other, or afraid of what reaction Jesus would have that they didn't understand?
Jesus had raised Jairus' daughter from the dead and Lazarus from the dead.  What made Jesus' death and being raised to life different?  Read

Hebrews 1:3 "The Son is the radiance of God's glory and the exact representation of his being, sustaining all things by his powerful word. After he had provided purification for sins, he sat down at the right hand of the Majesty in heaven."

  Will Jesus ever die again?
How do you react when people notice you've been with Jesus and then, treat you with anything from ridicule to disrespect to persecution?  Can you relate to why the disciples went underground?  Do you ever want to go underground?  Why might they have gathered together behind locked doors?  What benefit was there in community?