I can't begin to think of what all was going through the mind of Mary, Jesus' mother.  At the place where the Crucifixion was happening.  Seeing her son Jesus dying on a cross.  Witnessing the agony, the false accusations, and the mocking.
It's easy to become so familiar with the story that we fail to remember she was a real human being with true human emotions.  Obviously grief would have been what she was experiencing because parents are not supposed to outlive their children.  Shock perhaps.  Confusion, almost certainly.
I wonder if she felt betrayed by God or if her faith in God was so profound that it eclipsed any feelings of anger and bitterness over what God did with Luke 1:38 "I am the Lord's servant…May it be to me as you have said."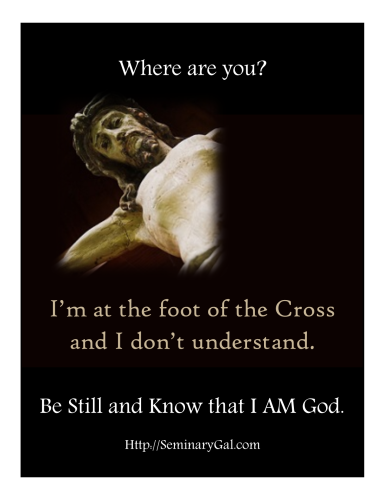 If I'd been in Mary's sandals, I might be thinking that this isn't what I signed up for.  How on earth could this be what God had planned?  Should I try to stop it?  Would my motherhood have risen up in protective instincts for my son?  Would I have said "Kill me instead" or tried to purchase His release somehow?
Scripture is remarkably silent on what Mary was thinking or doing.  But Scripture tells us that she was there.
John 19:26 When Jesus therefore saw His mother, and the disciple whom He loved standing nearby, He said to His mother, "Woman, behold, your son!" 27 Then He said to the disciple, "Behold, your mother!" And from that hour the disciple took her into his own household.
The words from John 19 are among the last Jesus ever spoke on earth.  Whether they were intended to still a broken heart or to provide for His mother, we don't know.
But we do know this: There would be no replacing her son Jesus.
Be Still.  The death you fear as Mine is the death that will set you free.
Be Still when you don't understand.  My Father's will and plan are perfect.
Be Still and Know that I AM God.  I take your words of faith as a servant and will bless them, often in ways you won't know on your side of heaven.
Be Still and Know that I AM God.  It had to be this way in order for you to be forgiven.  Come to the Cross with your sin and your shame and your guilt…and find that Jesus paid it all.
Questions for reflection:
How easy is it for us to turn Mary into a stoic and superhuman version of herself on Good Friday and beyond?  How does worship of Mary flow from failing to see her in her full sinful humanity just as every other person has?  She was a remarkable woman of faith, but that doesn't make her a goddess.
What does it mean to you that among Jesus' final words were those emphasizing new relationship in the community of faith?
How do you feel about Jesus' death?  Let the words of the hymn Jesus Paid it All minister to you today:
Jesus Paid it All
I hear the Savior say,
"Thy strength indeed is small;
Child of weakness, watch and pray,
Find in Me thine all in all."
Refrain
Jesus paid it all,
All to Him I owe;
Sin had left a crimson stain,
He washed it white as snow.
For nothing good have I
Whereby Thy grace to claim,
I'll wash my garments white
In the blood of Calv'ry's Lamb.
Refrain
And now complete in Him
My robe His righteousness,
Close sheltered 'neath His side,
I am divinely blest.
Refrain
Lord, now indeed I find
Thy power and Thine alone,
Can change the leper's spots
And melt the heart of stone.
Refrain
When from my dying bed
My ransomed soul shall rise,
"Jesus died my soul to save,"
Shall rend the vaulted skies.
Refrain
And when before the throne
I stand in Him complete,
I'll lay my trophies down
All down at Jesus' feet.
Refrain