By faith Abraham, when called to go to a place he would later receive as his inheritance, obeyed and went, even though he did not know where he was going. (Hebrews 11:8)
Where are you, Abraham?  I am stepping out in faith, but I don't know where You are taking me.
Have you ever felt like that?
Uncertainty and confusion are enemies of stillness.  We can have confidence in our past because we know how it all turns out.  The future frightens us because we don't know it and can't control it.
I can only imagine that Abraham must have wanted a little more regular communication from God.  Something like God's voice ahead of him saying, "Walk here. Turn here. Stop here."  Or like a map or a GPS giving indication of what's ahead so you know when to turn or stop.
Genesis 12:1 The LORD had said to Abram, "Leave your country, your people and your father's household and go to the land I will show you."
God didn't show Abraham what was ahead.  He just said, "Go."
Faith isn't built by having God show us what's ahead. Faith is built by confidently pressing into the unknown, listening to the voice of God in each and every moment.  Believing God always takes place most profoundly in the present for the future.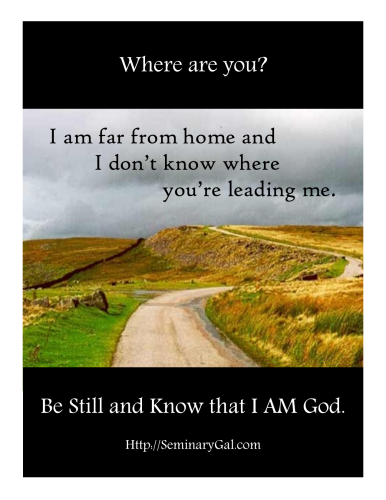 Like a parent holding the hands of a baby who is learning to walk, God does not walk before us, leading the way.  He walks behind us while holding our hands to let us develop confidence in stepping out.
If uncertainty and confusion are enemies of stillness, we can discover both trust and order in a faith relationship, in the stillness and nearness of God who holds our hands.
Be Still.  Confidence is found in the One who loves you.
Be Still.  I know the future.  While I might let you fall from time to time, it's not to harm you but to help you develop confidence in stepping out in faith. I will never let you down.
Be Still and Know that I AM God.  The future belongs to Me.  I know the end of the story.
Be Still and Know that I AM God. The future may be unknown to you, but you can Know Me, the One who knows the future.
Questions for reflection:
How often do we fear what the future holds?  What does it say about our trust in God?
Why is the unknown more frightening than what we can reasonably predict?  How does control play into that?
Read Romans 8:31

"What, then, shall we say in response to this? If God is for us, who can be against us? 32 He who did not spare his own Son, but gave him up for us all– how will he not also, along with him, graciously give us all things?" 

How can this encourage us to step confidently into the future?