In every generation, there is a hunger to know fact from fiction … an intrinsic need to have something reliable-rock solid-on which to take a stand. Something … somewhere … worth believing in. Something worth dying for.
T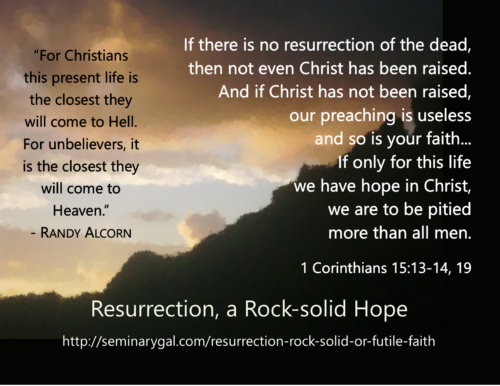 oday, the Apostle Paul demonstrates that his hands may have been a tentmaker's but his heart belonged to God. His life's vocational training prepared him for tent-making, but God prepared him for so much more than that. Paul could have been a top litigator as today's passage displays. God takes tentmaker Paul's love for Christ, his legal mind, his preacher's style of exhortation and turns his theological thoughts to What It Means to Be Resurrected.
Paul begins today to lay out his rock-solid case:
1 Corinthians 15:11 Whether, then, it was I or they, this is what we preach, and this is what you believed. 12 But if it is preached that Christ has been raised from the dead, how can some of you say that there is no resurrection of the dead? 13 If there is no resurrection of the dead, then not even Christ has been raised. 14 And if Christ has not been raised, our preaching is useless and so is your faith. 15 More than that, we are then found to be false witnesses about God, for we have testified about God that he raised Christ from the dead. But he did not raise him if in fact the dead are not raised. 16 For if the dead are not raised, then Christ has not been raised either. 17 And if Christ has not been raised, your faith is futile; you are still in your sins. 18 Then those also who have fallen asleep in Christ are lost. 19 If only for this life we have hope in Christ, we are to be pitied more than all men.
You see, not all Jewish sects believed in a resurrection, and not all Gentiles believed in it either. To this situation, Paul says,
Take a stand! Decide for yourselves if it's rock-solid or a futile faith!"
If the Resurrection of Christ is real (and it is) then you're headed for resurrection, too. Because if it weren't real and true and reliable, then this delusion would be a dangerous one. In fact, we ought to be pitied for placing our hope in something that didn't happen. If it didn't happen for Christ (who was perfect), then it certainly won't happen for us and we've still got a sin problem.
What Does it Mean to Be Resurrected?
It DID happen for Christ, and therefore it WILL happen for us. It's rock-solid and not a futile faith. We are not to be pitied for believing the truth and for the upward trajectory Christians have in a Gospel that's true, rock-solid, and reliable. By faith in God's Word, through the grace of Christ, and the mercy of the Father, a Christian's sin problem ends at our death. To quote Randy Alcorn from his book Heaven : "For Christians this present life is the closest they will come to Hell. For unbelievers, it is the closest they will come to Heaven."
Our series on 1 Corinthians 15 entitled What It Means to Be Resurrected can be accessed fully from the archives beginning April 2017.