I don't know about you, but I wonder sometimes what the post-resurrection me will look like. No, I'm not thinking you're wondering about me and my body, but have you ever thought about you and yours? To each its own? Let's continue our look at What it Means to Be Resurrected and a study of 1 Corinthians 15.
I used to joke that I wanted my post-resurrection body to have a nice tan and a flat stomach. I was imagining heaven as being no skin cancer and the Bible says there's no more sun, so I guess it'd have to be a lasting sunless tanner or a permanent natural tan. Jesus wouldn't serve food that'd kill you at the wedding feast of the Lamb, so I guess there'd be no need for Nutrisystem to get rid of stubborn belly fat for that flat stomach. When I imagine heaven, I don't think I'll eye every future meal as a potential assassin looking to kill me like earthly food can sometimes make me feel.
Every week there's a new food reported to kill me and if I don't eat at all, that'll kill me! Post-resurrection, nothing will. Just let that sink in.
I don't know what our bodies will look like. But if I understand what Paul is saying, to each its own. God will take materials–perhaps the very ones used to give us a body now—and God will perfect it, not just back to the pre-Fall body, but to an eternal one. We'll be us, but different. Somehow Jesus could look like Jesus, but at the same time…not look like Jesus (Luke 24:15-32) to the men on the road to Emmaus.
How is this possible?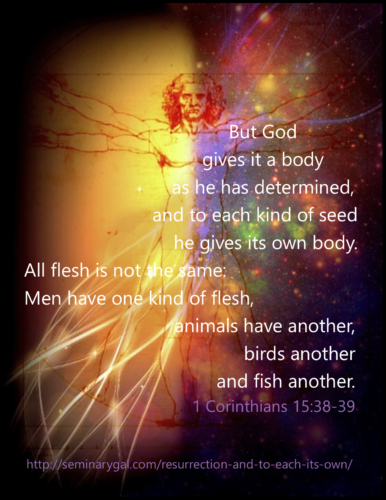 The Apostle Paul offers an analogy of the various bodies that exist now and as he builds his case and points ahead to what redeemed humanity's glorified bodies will be someday.
1 Corinthians 15:38 But God gives it a body as he has determined, and to each kind of seed he gives its own body. 39 All flesh is not the same: Men have one kind of flesh, animals have another, birds another and fish another. 40 There are also heavenly bodies and there are earthly bodies; but the splendor of the heavenly bodies is one kind, and the splendor of the earthly bodies is another. 41 The sun has one kind of splendor, the moon another and the stars another; and star differs from star in splendor.
Perhaps Paul (in his vision unto thorn) received insider knowledge or maybe the Holy Spirit revealed a pattern … that there's more to the story. Paul talks about our resurrection bodies in the same way that Genesis talks about Creation. To each its own.
Read through the Creation account again and how God gave all created things mass, flesh, being, or substance. If God could do that ex nihilo (out of nothing at Creation) God can give us something wholly new through His same creative genius.
But unlike reincarnation, when we get new bodies, we will not become a different kind of creature to cycle through in an endless quest for perfection.
Biblically speaking, to each its own and we remain human.
And to every human being, there is one life, one death, and then resurrection to a forever status: redeemed perfected or not-redeemed sinner, that is the question.