But Jesus doesn't look like the Messiah the Jews have been expecting!
In Acts 3, Peter's sermon continues with an explanation for his Jewish hearers. First, he quickly summarizes the Gospel message and then he explains why Jesus is the long-awaited Messiah, just not the way they were expecting.
The Jews of Jesus' day were expecting a Messiah who was a conquering King. All of their prophecy pointed to this fact. What they failed to see is that they wouldn't want a Messiah who conquers kingdoms and vindicates the holy, righteous, and chosen ones as a once-and-done deal.
A once-and-done Eternal Judge isn't what the Jews or any of us want. Why? Because none of the Jews were holy. None of them would be suitable for the eternal kingdom. None of us are. We need first to be made holy.
This is such an important point and a reason for Christians to continue to treat our Jewish brothers and sisters the way Peter, a Jew, did. Peter had an advantage: he was a Jew himself. Therefore it was easier for him to understand the Jewish perspective. It had been his own story. It's why he could honestly say,
Acts 3:17 "Now, brothers, I know that you acted in ignorance, as did your leaders.
You see, it isn't a matter of smart enough or clever enough. They cannot be faulted for "not getting it" before it was explained. With only a lens that showed a conquering King (see diagram below), they cannot be faulted for the eventual understanding that Messiahs don't die. It's what Christians expect of the Return of Christ! He won't die. Been there. Done that.
Therefore, to the Jews who conflated both the first and final Advents, death was the ultimate disqualifier. The Jews had all their prophecies looking toward the very last moment of eternal vindication and a conquering King, not a Messiah who dies. With a view of only a final lens, they are absolutely correct: the Messiah will not die.
Why did Jesus die then?
Peter offers this wise corrective explaining the Crucifixion's veracity and necessity as only a man who encountered Jesus could.
Acts 3:18 But this is how God fulfilled what he had foretold through all the prophets, saying that his Christ would suffer.
The suffering servant predicted in Isaiah is not just Israel.
The Suffering Servant is the Messiah.
Isaiah 49:1 Listen to me, you islands; hear this, you distant nations: Before I was born the LORD called me; from my birth he has made mention of my name. 2 He made my mouth like a sharpened sword, in the shadow of his hand he hid me; he made me into a polished arrow and concealed me in his quiver. 3 He said to me, "You are my servant, Israel, in whom I will display my splendor." 4 But I said, "I have labored to no purpose; I have spent my strength in vain and for nothing. Yet what is due me is in the LORD's hand, and my reward is with my God." 5 And now the LORD says– he who formed me in the womb to be his servant to bring Jacob back to him and gather Israel to himself, for I am honored in the eyes of the LORD and my God has been my strength– 6 he says: "It is too small a thing for you to be my servant to restore the tribes of Jacob and bring back those of Israel I have kept. I will also make you a light for the Gentiles, that you may bring my salvation to the ends of the earth." 7 This is what the LORD says– the Redeemer and Holy One of Israel– to him who was despised and abhorred by the nation, to the servant of rulers: "Kings will see you and rise up, princes will see and bow down, because of the LORD, who is faithful, the Holy One of Israel, who has chosen you."8 This is what the LORD says: "In the time of my favor I will answer you, and in the day of salvation I will help you; I will keep you and will make you to be a covenant for the people, to restore the land and to reassign its desolate inheritances, 9 to say to the captives, 'Come out,' and to those in darkness, 'Be free!' "They will feed beside the roads and find pasture on every barren hill. 10 They will neither hunger nor thirst, nor will the desert heat or the sun beat upon them. He who has compassion on them will guide them and lead them beside springs of water. 11 I will turn all my mountains into roads, and my highways will be raised up.
All of us, both Jew and non-Jew, have been held captive to sin and death.
This is the real enemy of Jews and non-Jews!
Jesus came and conquered that by entering onto death's battlefield and He defeated death by doing it and by being resurrected from it. Because of the Cross and the empty tomb, we can all be free to know the day of salvation as fulfilled and foretold.
Questions for pondering:
What is the root of anti-Semitism among a distinct minority of Christians? Why do they do this when Jesus was Jewish? Most Christians are the Jews' best friends.
What is the root of anti-Semitism among Muslims? How is it different?
How has a politicization of the nation state of Israel in the minds of many Westerners undermined our compassion for Jesus' brothers and sisters in a Jewish sense?
If Jesus had not come to deal with sin by dying during His first Advent, where would we all be? Would we still be sinners without salvation?
The world and all our sinfulness crucified the Messiah. How might this acknowledgement serve to communicate compassion for Jews instead of blame?
Nationalistic/Religious pride stands between people and their God. How does love break down that barrier?
How might pointing to the entry to the Promised Land by faithful Jews (while those who failed to trust God died in the desert though they too were Jews by heritage) serve as a parallel to show that salvation is all about faith in God and trusting His means of entry?
Psalm 95:6 Come, let us bow down in worship, let us kneel before the LORD our Maker; 7 for he is our God and we are the people of his pasture, the flock under his care. Today, if you hear his voice, 8 do not harden your hearts as you did at Meribah, as you did that day at Massah in the desert, 9 where your fathers tested and tried me, though they had seen what I did. 10 For forty years I was angry with that generation; I said, "They are a people whose hearts go astray, and they have not known my ways." 11 So I declared on oath in my anger, "They shall never enter my rest."
Hebrews 3:15 As has just been said: "Today, if you hear his voice, do not harden your hearts as you did in the rebellion." 16 Who were they who heard and rebelled? Were they not all those Moses led out of Egypt? 17 And with whom was he angry for forty years? Was it not with those who sinned, whose bodies fell in the desert? 18 And to whom did God swear that they would never enter his rest if not to those who disobeyed? 19 So we see that they were not able to enter, because of their unbelief. 4:1 Therefore, since the promise of entering his rest still stands, let us be careful that none of you be found to have fallen short of it. 2 For we also have had the gospel preached to us, just as they did; but the message they heard was of no value to them, because those who heard did not combine it with faith.
For those of you who would like more information on this subject, please feel free to contact me at seminarygal@gmail.com or read this article I posted in 2011, Top Ten Things I Wish Every Jew Knew.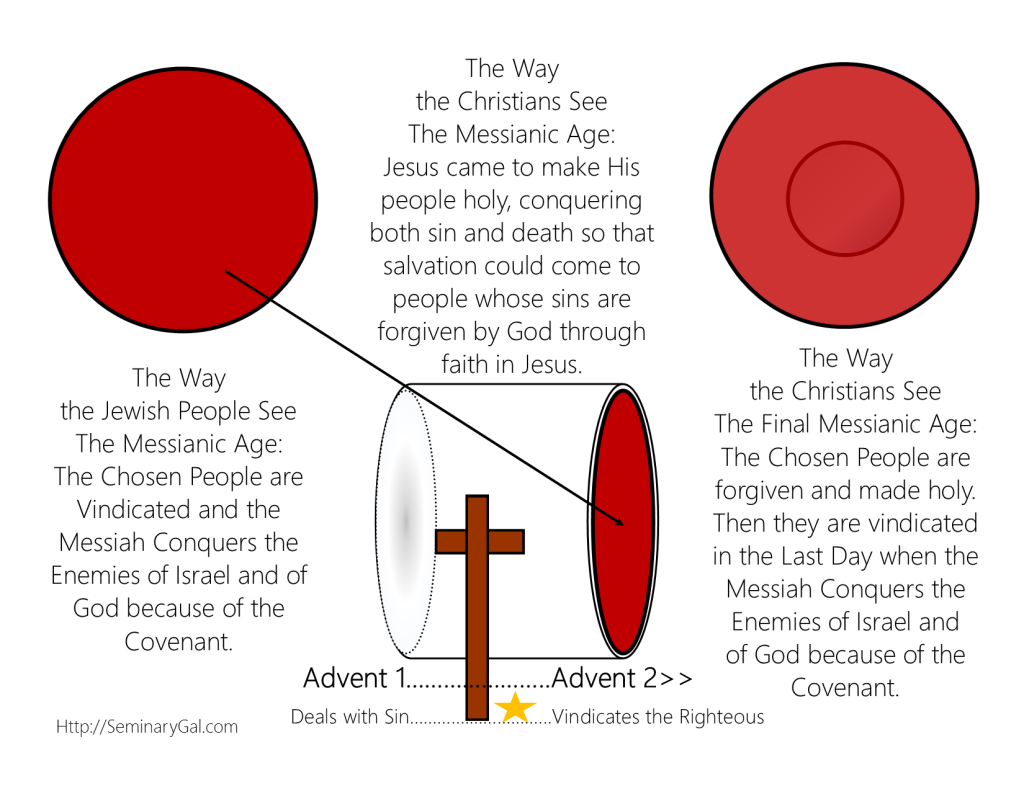 Finally, as a reminder, Carol Me, Christmas (2014 Advent Devotional Series) will begin November 30th. If you haven't signed up yet, you can receive these devotional studies in your email throughout Advent 2014 by entering your email address on the SeminaryGal.com home page in the space provided in the sidebar. Or "Like" the SeminaryGal Facebook page to access them there.